The calm before the storm
18th August 2011
Page 46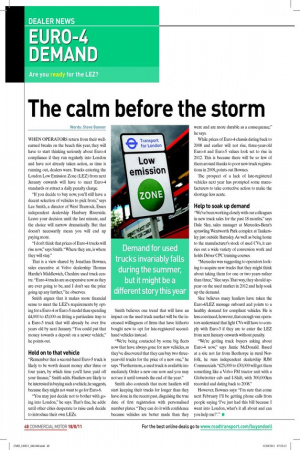 Page 46, 18th August 2011 —
The calm before the storm
Close
Words: Steve Banner
WHEN OPERATORS return from their wellearned breaks on the beach this year, they will have to start thinking seriously about Euro-4 compliance if they run regularly into London and have not already taken action, as time is running out, dealers warn. Trucks entering the London Low Emission Zone (LEZ) from next January onwards will have to meet Euro-4 standards or attract a daily penalty charge.
"If you decide to buy now, you'll still have a decent selection of vehicles to pick from," says Lee Smith, a director of West Thurrock, Essex independent dealership Hanbury Riverside. Leave your decision until the last minute, and the choice will narrow dramatically. But that doesn't necessarily mean you will end up paying more.
"I don't think that prices of Euro-4 trucks will rise now," says Smith. "Where they are, is where they will stay." That is a view shared by Jonathan Bownes, sales executive at Volvo dealership Thomas Hardie's Middlewich, Cheshire used truck centre. "Euro-4 trucks are as expensive now as they are ever going to be, and I don't see the price going up any further," he observes.
Smith argues that it makes more inancial sense to meet the LEZ's requirements by opting for a Euro-4 or Euro-5 model than spending £4,000 to £5,000 on itting a particulate trap to a Euro-3 truck that will already be over ive years old by next January. "You could put that money towards a deposit on a newer vehicle," he points out.
Hold on to that vehicle
"Remember that a second-hand Euro-5 truck is likely to be worth decent money after three or four years, by which time you'll have paid off your inance," Smith adds. Hauliers are likely to be interested in buying such a vehicle, he suggests, because they might not want to go for Euro-6.
"You may just decide not to bother with going into London," he says. That's ine, he adds: until other cities desperate to raise cash decide to introduce their own LEZs. Smith believes one trend that will have an impact on the used truck market will be the increased willingness of irms that have hitherto bought new to opt for late-registered secondhand vehicles instead.
"We're being contacted by some big leets now that have always gone for new vehicles, as they've discovered that they can buy two threeyear-old trucks for the price of a new one," he says. "Furthermore, a used truck is available immediately. Order a new one now and you may not see it until towards the end of the year." Smith also contends that more hauliers will start keeping their trucks for longer than they have done in the recent past, disguising the true date of irst registration with personalised number plates. "They can do it with conidence because vehicles are better made than they were and are more durable as a consequence," he says.
While prices of Euro-4 chassis dating back to 2008 and earlier will not rise, three-year-old Euro-4 and Euro-5 values look set to rise in 2012. This is because there will be so few of them around thanks to poor new truck registrations in 2009, points out Bownes.
The prospect of a lack of late-registered vehicles next year has prompted some manufacturers to take corrective action to make the shortage less acute.
Help to soak up demand
"We've been working closely with our colleagues in new truck sales for the past 18 months," says Dale Slee, sales manager at Mercedes-Benz's sprawling Wentworth Park complex at Tankersley just outside Barnsley. As well as being home to the manufacturer's stock of used CVs, it carries out a wide variety of conversion work and holds Driver CPC training courses.
"Mercedes was suggesting to operators looking to acquire new trucks that they might think about taking them for one or two years rather than three," Slee says. That way, they should appear on the used market in 2012 and help soak up the demand.
Slee believes many hauliers have taken the Euro-4/LEZ message onboard and points to a healthy demand for compliant vehicles. He is less convinced, however, that enough van operators understand that light CVs will have to comply with Euro-3 if they are to enter the LEZ from next January onwards without penalty.
"We're getting truck buyers asking about Euro-4 now," says Jamie McDonald. Based at a site not far from Besthorpe in rural Norfolk, he runs independent dealership RJM Commercials. "£25,000 to £30,000 will get them something like a Volvo FM tractor unit with a Globetrotter cab and I-Shift, with 300,000km recorded and dating back to 2008."
However, Bownes says: "I'm sure that come next February I'll be getting phone calls from people saying 'I've just had this bill because I went into London, what's it all about and can you help me?' . " ■