Buy, rent or pay as you go?
18th August 2011
Page 36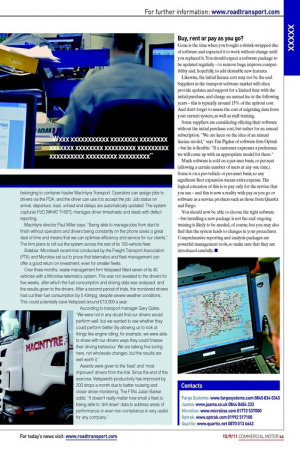 Page 36, 18th August 2011 —
Buy, rent or pay as you go?
Close
Gone is the time when you bought a shrink-wrapped disc of software and expected it to work without change until you replaced it. You should expect a software package to be updated regularly – to remove bugs, improve compatibility and, hopefully, to add desirable new features.
Likewise, the initial licence cost may not be the end. Suppliers in the transport software market will often provide updates and support for a limited time with the initial purchase, and charge an annual fee in the following years – this is typically around 15% of the upfront cost. And don't forget to assess the cost of migrating data from your current system, as well as staff training.
Some suppliers are considering offering their software without the initial purchase cost, but rather for an annual subscription. "We are keen on the idea of an annual licence model," says Tim Pigden of software irm Optrak – but he is lexible: "If a customer expresses a preference we will come up with an appropriate model for them."
Much software is sold on a per-user basis, or per-seat (allowing a certain number of users at any one time). Some is on a per-vehicle or per-asset basis, so any signiicant leet expansion means extra expense. The logical extension of this is to pay only for the service that you use – and this is now a reality with pay as you go or software as a service products such as those from Quartix and Fargo.
You should now be able to choose the right software – but installing a new package is not the end: ongoing training is likely to be needed, of course, but you may also ind that the system leads to changes in your procedures. Comprehensive reporting and analysis packages are powerful management tools, so make sure that they are introduced carefully. ■