JAAMA
18th August 2011
Page 34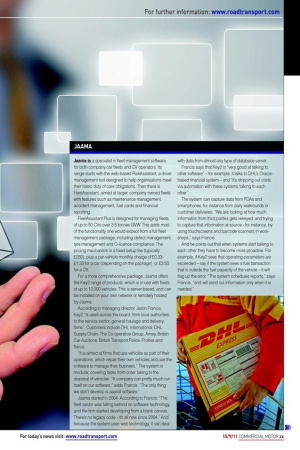 Page 34, 18th August 2011 —
JAAMA
Close
Jaama is a specialist in fleet management software, for both company car fleets and CV operators. Its range starts with the web-based RiskAssistant, a driver management tool designed to help organisations meet their basic duty of care obligations. Then there is FleetAssistant, aimed at larger, company-owned fleets with features such as maintenance management, accident management, fuel cards and financial reporting.
FleetAssistant Plus is designed for managing fleets of up to 50 CVs over 3.5 tonnes GVW. This adds most of the functionality one would expect from a full fleet management package, including defect management, tyre management and O-licence compliance. The pricing mechanism is a fixed setup fee (typically £250), plus a per-vehicle monthly charge of £0.33£1.33 for a car (depending on the package), or £3.50 for a CV.
For a more comprehensive package, Jaama offers the Key2 range of products, which is in use with fleets of up to 12,000 vehicles. This is server-based, and can be installed on your own network or remotely hosted by Jaama.
According to managing director Jason Francis, Key2 "is used across the board, from local authorities, to the service sector, general haulage and delivery firms". Customers include DHL International, DHL Supply Chain, The Co-operative Group, Amey, British Car Auctions, British Transport Police, Prohire and Serco.
"It is aimed at firms that use vehicles as part of their operations, which repair their own vehicles and use the software to manage their business." The system is modular, covering tasks from order taking to the disposal of vehicles. "A company can pretty much run itself on our software," adds Francis. "The only thing we don't develop is payroll software." Jaama started in 2004. According to Francis: "The fleet sector was falling behind on software technology, and the firm started developing from a blank canvas. There's no legacy code it's all new since 2004." And because the system uses web technology, it can deal with data from almost any type of database server.
Francis says that Key2 is "very good at talking to other software" – for example, it talks to DHL's Oraclebased financial system – and "it's stripping out costs via automation with these systems talking to each other".
The system can capture data from PDAs and smartph ones, for instance from daily walkrounds or customer deliveries. "We are looking at how much information from third parties gets rekeyed, and trying to capture that information at source for instance, by using touchscreens and barcode scanners in workshops," says Francis.
And he points out that when systems start talking to each other they have to become more proactive. For example, if Key2 sees that operating parameters are exceeded – say if the system sees a fuel transaction that is outside the fuel capacity of the vehicle – it will flag up the error. "The system schedules reports," says Francis, "and will send out information only when it is needed."