WILL THE NEW TACHO CUT COSTS?
18th August 2011
Page 24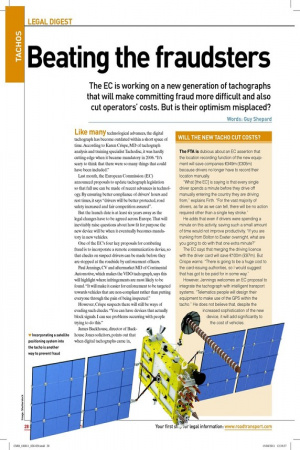 Page 24, 18th August 2011 —
WILL THE NEW TACHO CUT COSTS?
Close
The FTA is dubious about an EC assertion that the location recording function of the new equipment will save companies €349m (£305m) because drivers no longer have to record their location manually.
"What [the EC] is saying is that every single driver spends a minute before they drive off manually entering the country they are driving from," explains Firth. "For the vast majority of drivers, as far as we can tell, there will be no action required other than a single key stroke." He adds that even if drivers were spending a minute on this activity, saving such a small amount of time would not improve productivity. "If you are trunking from Bolton to Exeter overnight, what are you going to do with that one extra minute?" The EC says that merging the driving licence with the driver card will save €100m (£87m). But Crispe warns: "There is going to be a huge cost to the card-issuing authorities, so I would suggest that has got to be paid for in some way." However, Jennings welcomes an EC proposal to integrate the tachograph with intelligent transport systems. "Telematics people will design their equipment to make use of the GPS within the tacho." He does not believe that, despite the increased sophistication of the new device, it will add significantly to the cost of vehicles.