Trapped driver saved from burning truck
18th August 2011
Page 13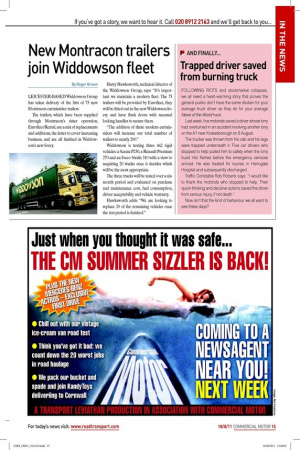 Page 13, 18th August 2011 —
Trapped driver saved from burning truck
Close
FOLLOWING RIOTS and stockmarket collapses, we all need a heart-warming story that proves the general public don't have the same disdain for your average truck driver as they do for your average News of the World hack.
Last week, five motorists saved a driver whose lorry had overturned in an accident involving another lorry on the A1 near Knaresborough on 8 August.
The trucker was thrown from his cab and his legs were trapped underneath it. Five car drivers who stopped to help pulled him to safety when the lorry burst into flames before the emergency services arrived. He was treated for injuries in Harrogate Hospital and subsequently discharged.
Traffic Constable Rob Roberts says: "I would like to thank the motorists who stopped to help. Their quick-thinking and decisive actions saved the driver from serious injury, if not death." Now isn't that the kind of behaviour we all want to see these days?