Wincanton wins appeal over unlicensed drivers
18th August 2011
Page 12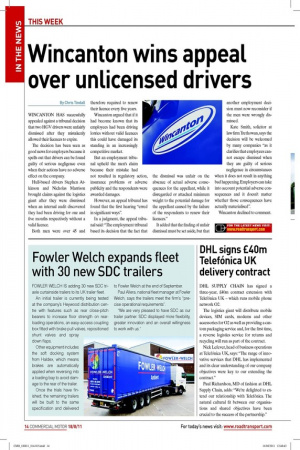 Page 12, 18th August 2011 —
Wincanton wins appeal over unlicensed drivers
Close
By Chris Tindall WINCANToN HAS successfully appealed against a tribunal decision that two HGV drivers were unfairly dismissed after they mistakenly allowed their licences to expire.
The decision has been seen as good news for employers because it spells out that drivers can be found guilty of serious negligence even when their actions have no adverse effect on the company.
Hull-based drivers Stephen Atkinson and Nicholas Marrison brought claims against the logistics giant after they were dismissed when an internal audit discovered they had been driving for one and ive months respectively without a valid licence.
Both men were over 45 and therefore required to renew their licence every ive years.
Wincanton argued that if it had become known that its employees had been driving lorries without valid licences this could have damaged its standing in an increasingly competitive market.
But an employment tribunal upheld the men's claim because their mistake had not resulted in regulatory action, insurance problems or adverse publicity and the respondents were awarded damages.
However, an appeal tribunal has found that the irst hearing "erred in signiicant ways".
In a judgment, the appeal tribunal said: "The employment tribunal based its decision that the fact that the dismissal was unfair on the absence of actual adverse consequences for the appellant, while it disregarded or attached minimum weight to the potential damage for the appellant caused by the failure of the respondents to renew their licences." It added that the inding of unfair dismissal must be set aside, but that another employment decision must now reconsider if the men were wrongly dismissed.
Kate Smith, solicitor at law irm Trethowan, says the decision will be welcomed by many companies "as it clariies that employees cannot escape dismissal when they are guilty of serious negligence in circumstances when it does not result in anything bad happening. Employers can take into account potential adverse consequences and it doesn't matter whether those consequences have actually materialised".
Wincanton declined to comment.