Midland Expressway losses deepen as traffic plunges
18th August 2011
Page 11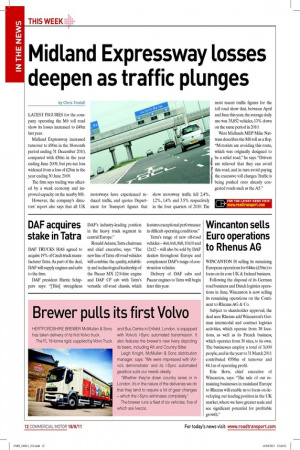 Page 11, 18th August 2011 —
Midland Expressway losses deepen as traffic plunges
Close
Keywords :
Types Of Roads
,
Transport In Birmingham, England
,
Electronic Toll Collection
,
M6 Toll
,
Motorway
,
National Expressway
,
Toll Road
,
Trafic
,
Malaysian Expressway System
,
Business / Finance
by Chris Tindall LATEST FIGURES for the company operating the M6 toll road show its losses increased to £49m last year.
Midland Expressway increased turnover to £90m in the 18-month period ending 31 December 2010, compared with £56m in the year ending June 2009, but pre-tax loss widened from a loss of £26m in the year ending 30 June 2009.
The irm says trading was affected by a weak economy and improved capacity on the nearby M6.
However, the company's directors' report also says that all UK
motorways have experienced reduced trafic, and quotes Department for Transport igures that
show motorway trafic fell 2.4%, 1.2%, 1.4% and 3.5% respectively in the four quarters of 2010. The most recent trafic igures for the toll road show that, between April and June this year, the average daily use was 35,852 vehicles, 13% down on the same period in 2010.
West Midlands MEP Mike Nattrass describes the M6 toll as a lop. "Motorists are avoiding this route, which was originally designed to be a relief road," he says. "Drivers are relieved that they can avoid this road, and in turn avoid paying the excessive toll charges. Trafic is being pushed onto already congested roads such as the A5."