Morris-Commercial Redesigns 30-cwt.
18th April 1952
Page 27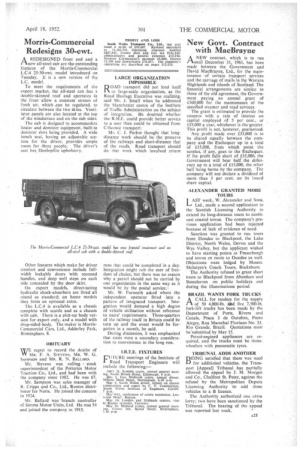 Page 27, 18th April 1952 —
Morris-Commercial Redesigns 30-cwt.
Close
A REDESIGNED front end and a r"new all-steel cab are the outstanding features of the Morris-Commercial L.C.4 25-30-cwt. model introduced on Tuesday. It is a new version of the L.C. model.
To meet the requirements of the export market, the all-steel cab has a double-skinned roof and apertures in the front-allow a constant stream of fresh air, which .can be regulated, to circulate between the two skins. Ventilator panels are also located at the top of the windscreen and on the cab sides The cab is designed to accommodate heater and demister equipment, built-in demister slots being provided. A wide bench seat, having an adjustable section for the driver, provides ample room for three people. The driver's seat has Durilopillo upholstery.
Other features which make for driver comfort and convenience include fullwidth lockable doors 'with recessed handles, and deepwell steps on each side concealed by the door skirt.
On export models, direct-acting hydraulic shock-absorbers are fitted all round as standard; on home models they form an optional extra.
The L.C.4 is available as a chassis complete with scuttle and as a chassis with cab. There is a pick-up body version for export only, and a model with drop-sided body. The maker is MorrisCommercial Cars, Ltd., Adderley Park, Birmingham. 8.
OBITUARY
WE regret to record the deaths of 7 MR. F. A. STEVENS, MR. W. G. 'SAMPSON and Ma. R. N. BALLARD. Mr. Stevens was rolling stock superintendent of the Potteries Motor Traction Co., Ltd., and had been with the company since 1902. He was 67. Mr. Sampson was sales manager of R. Cripps and Co., Ltd., Rootes distributor for Notts. He joined the concern in 1924.
Mr. Ballard was /branch controller of Simms Motor Units, Ltd. He was 54 and joined the company in 1915, LARGE ORGANIZATION IMPOSSIBLE
ROAD transport did not lend itself to large-scale organization, .as the Road Haulage Executive was realizing, said Mr. J. Small when he addressed the Manchester centre of the Institute of Traffic Administration on the subject of integration. He doubted whether the.R.H.E. could provide better service to a user than could be obtained from C-licence transport.
Mr. C. I. Parker thought that longdistance work should be the preserve of the railways and short-distance that of the roads. Road transport should do that work which involved return runs that could be 'completed in a day. Integration might rob the user of freedom of choice, but there was no reason why a parcel should not be carried by one organization in the same way as it would be by the postal service.1 Mr. W. Farnorth asked where the independent operator fitted into a pattern of integrated transport. Integration would demand a high degree of vehicle utilization without reference to users' requirements. Three-quarters of the railway track in Britain could be torn up and the event would be forgotten in a month, he said.
During discussion, it was emphasized that costs were a secondary consideration to convenience in the long run.
FIXTURES
FURE meetings of the Institute of I. Road Transport Engineers will include the following:— April 20, Scottish court., annual general meeting. North British Hotel, Edinburgh, 8 P.m. May East Midlands centre, annual dinner, Miltons -Head Hotel, Nottingham, 6.30 p.m. May 9, South Wales group, lecture on chassis construction and repair by C. F. CUnninaham, South Wales Institute of Engineers. Cardiff, 7 p.m.
May 9-11, conference of centre secretaries, Leewood Lintel. Buxton.
May 14, Lando-t and Midlands centres, visit50 Rootes factories, Coventry. May 213. Midland centre, annual meet ing, Crown Inn. 1irpad Street, Birmingham, 7.30 p m.