WELL-KNOWN PERSONALITIES AT M.H.C.S.A. DINNER
17th November 1933
Page 52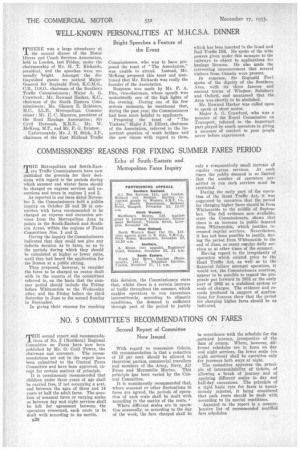 Page 52, 17th November 1933 —
WELL-KNOWN PERSONALITIES AT M.H.C.S.A. DINNER
Close
Bright Speeches a Feature of the Event
MHERE was a large attendance at 1 the annual dinner of the Motor Hirers and Coach Services Association, held in London, last Friday, under the chairmanship of Mr. H. T. Rickards, president, and the speeches were unusually 'bright. Amongst the distinguished guests we noticed MajorGeneral Sir Reginald Ford, K.C.M.G., C.B., 1).S.0.. chairman of the Southern Traffic Commissioners; Major A. G. Crawford; Mr. Rowand Harker, K.C., chairman of the South Eastern Commissioners; Mr. Gleeson E. Robinson, M.C., LL.B., Metropolitan Commissioner ; Mr. E. C. Marston, president of the Road Haulage Association ; Sir Cyril Hurcomb, K.B.B.; Mr.. W. IVIcKeng, M.P., and Mr. F. G. Bristow.
Unfortunately, Mr. J. H. Stirk, J.P., chairman of the East Midland Traffic Commissioners, who was to have proposed the toast of "The Association," was unable to attend. instead, Mr. McKeag proposed this toast and mentioned that Mr. Rickards was really the founder of the Association.
Response was made by Mr. F. A. Fun, vice-chairman, whose speech was undoubtedly one of the high lights of the evening. During one of his few serious moments, he mentioned that, during the past year, the Commissioners had been more helpful to applicants.
Proposing the toast of "The Visitors," Major J. B. Elliott, chairman of the Association, referred to the important question of weak bridges and the new clause with regard to them, which has been inserted in the Road and Rail Traffic Bill. He spoke of the wide powers given under this measure to the railways to object to applications for haulage licences. He also made the interesting announcement that several visitors from Canada were present.
In response, Sir Reginald Ford spoke of the dignity of the Southern Area, with its three famous and ancient towns of Windsor, Salisbury and Oxford, and mentioned that the Area was shortly to be abolished.
Mr. Rowand Harker was called upon to speak at short notice.
Major A. 0. Crawfurd, who was a member of the Royal Commission on Transport, referred to the important part played by coach operators in giving a measure of comfort to poor people never before experienced.
Tags
People
:
J. H. Stirk
,
Gleeson E. Robinson
,
Cyril Hurcomb
,
A. G. Crawford
,
Rowand Harker
,
J. B. Elliott
,
F. A. Fun
,
Reginald Ford
,
E. C. Marston
,
H. T. Rickards
,
McKeag
,
F. G. Bristow