AIR TRANSPORT NEWS
17th November 1933
Page 43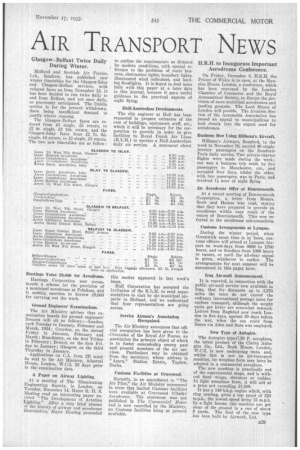 Page 43, 17th November 1933 —
AIR TRANSPORT NEWS
Close
GlasgowBelfast Twice Daily During Winter.
Midland and Scottish Air Ferries, Ltd., Renfrew, has published new winter timetables for the Glasgow-Islay and Glasgow-Belfast services, with reduced fares ItS from November 13. It has been decided to run twice daily to and from Belfast, and not once daily, as previously anticipated. The Dublin service is for the present withdrawn, there being insufficient demand to justify winter running.
The Glasgow-Belfast fares are reduced from £3 single, £5 return, to £2 4s. single, £3 10s. return, and the Glasgow-Islay fares from £2 7s. 6d. single, £4 return, to £2 single, £2 return. The two new timetables are as follow : Hastings Votes 0,000 for Aerodrome.
Hastings Corporation now recommends a scheme for the provision of a municipal aerodrome at Pebsham, and is seeking sanction to borrow £9,000 for carrying out the work.
Ground Engineers' Examinations.
The Air Ministry advises that examination boards for ground engineers' liceuces will sit as follows ;-London, each Tuesday in January, February and March, 1984; • Croydon, on the second Friday in January, February and March ; Manchester, on the first Friday in February ; Bristol, on the first Friday in January ; Glasgow, on the third Thursday in January. Applications on C.A. form 213 must be sent to the Air Ministry, Adastral House, London, W.C.2, 28 days prior to the examination date.
A Paper on Airway Lighting. At a meeting of The Illuminating Engineering Society, in London, on Tuesday, November 14, Major R. H. S. Mealing read an interesting paper entitled "The Development of Aviation Lighting." After a very brief resume if the history of airway and aerodrome Major Mealing proceeded
to outline the requirements as dictated by modern conditions, with special reference to the problems of route beacons, obstruction lights, boundary lights, illuminated wind indicators, and lauding floodlights. It is hoped to deal more fully with this paper at a later date in this journal, because it gave useful guidance in the practical aspects of night flying.
Hull-Amsterdam Developments.
The city engineer at Hull has been requested to prepare estimates of the cost of buildings, equipment, staff, etc., which it will be necessary for the corporation to provide in order to give facilities to Royal Dutch Air Lines (K.L.M.) to operate a Hull-Amsterdam daily air service. A statement about
this matter appeared in last week's issue.
Hull Corporation has accepted the invitation of the K.L.M. to send representatives to visit by air municipal airports in Holland, and we understand that four representatives are going across.
Service Airmen's Association Recognized, The Air Ministry announces that official recognition has been given to the -Comrades of the Royal Air Forces, an association the primary object of which is to foster comradeship among past and present members of the air services. Particulars may be obtained from the secretary, whose address is " Azara," Station Estate, Taplow, Bucks.
Customs Facilities at Gravesend.
Recently, in an amendment to "The Air Pilot," the Air Ministry announced in error that limited Customs facilities were available at Gravesend (Chalk) Aerodrome. The statement was not published in The Commercial Motor and is now cancelled by the Ministry, no Customs facilities being at present available.
H.R.H. to Inaugurate Important Aerodrome Conference.
On Friday, December 8, H.R.H. the Prilice of Wales is to open, at the Mansion House, London, a conference, which has been convened by the London Chamber of Commerce and the Royal Aeronautical Society, to discuss the provision of more municipal aerodromes and landing grounds. The Lord Mayor of London will preside. The Aviation Section of the Automoble Association has issued an appeal to municipalities to look closely into the urgent need for aerodromes.
Business Men Using Hillman's Aircraft.
Hillman's Airways, Romford, in the week to November 10, carried 49 singlejourney passengers on the RomfordParis daily service. Two private-charter flights were made during the week ; one was a business trip made by five passengers to Manchester, etc., and occupied four days, whilst the other, with two passengers, was to Paris, and involved 13hour of night flying.
An Aerodrome Offer at Bournemooth.
At a recent meeting of Bournemouth Corporation, a letter from Messrs. Scott and Haines was read, stating that they were prepared to provide an aerodrome within easy reach of the centre of Bournemouth. This was referred to the aerodrome sub-committee.
Customs Arrangements at Lyrnpne.
During the winter period, when Greenwich mean time is in 'force, customs officers will attend at Lympne Airport on week-days from 0900 to 1700 hours, and on Sundays from 1000 hours to sunset, or until the all-clear signal is given, whichever is earlier. The arrangements for next summer will be announced in this paper later.
Iraq Air-mail Announcement.
It is reported, in connection with the public air-mail service now available in Iraq, that for distances up to 3,275 miles the rates do not exceed the ordinary international postage rates for surface transport, although the weight units per letter are somewhat reduced. Letters from Baghdad now reach London in five days, against 30 days before the war, when the sea route from Basra via Aden and Suez was employed.
New Type of Autogiro.
The Autogiro type-C.30 P. aeroplane, the latest product of the Cierva Autogiro Co., Ltd., Bush House, London, W.C.2, is now undergoing tests, and, whilst this is not an air-transport machine, its wingless form may later be adopted in a commercial aeroplane.
The new machine is practically out of the experimental stage, and is without fixed wings, elevators or rudder. In light areoplane form, it will sell at a price not exceeding £1,200.
It has a 140 b.b.p. engine which, with ring cowling, gives a top speed of 120 m.p.h., the lowest speed being 15 m.p.h. In a light breeze, this machine can get clear of the ground in a run of about 5 yards. The first of the new type has been built -by Airwork, Ltd.