Adapting Petrol Engines to Oil Fuel
17th November 1933
Page 39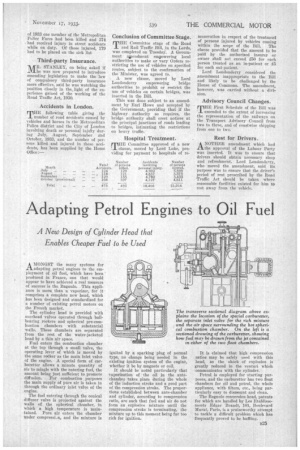 Page 39, 17th November 1933 —
Adapting Petrol Engines to Oil Fuel
Close
Keywords :
Piston Engines
,
Petroleum
,
Compression Ratio
,
Combustion Chamber
,
Stroke
,
Petrol Engine
,
Carburetor
,
Cylinder Head
,
Valve
,
Engine Knocking
,
Hornsby-akroyd Oil Engine
A New Design of Cylinder Head that Enables Cheaper Fuel to be Used
AMONGST the many systems for adapting petrol engines to the employment of oil fuel, which have been produced in France, one that would appear to have achieved a real measure of success is the Baguulo. This appliance is more, than a vaporizer, for it comprises a complete new head, which has been designed and standardized for 'a number of existing petrol motors on the French market.
The cylinder head is provided with overhead valves operated through ball. bearing rockers and spherical pre-combustion chambers with substantial walls. These chambers are separated from the rest of the water-jacketed head by a thin air space. Fuel enters the combustion chamber at the top through a small valve, the operating lever of which is moved by the same rocker as the main inlet valve of the engine. A special form of carburetter allows a minute quantity of air to mingle with the entering fuel, the amount being just sufficient to promote diffusion. For combustion purposes the main supply of pure air is taken in through the ordinary inlet valve of the engine. The fuel entering through the conical diffuser valve is projected against the walls of the spherical chamber, in which a high temperature is maintained. Pure air enters the chamber under cornpressi,n, and the mixture is ignited by a sparking plug of normal type, no change being needed in the existing ignition system -of the engine, whether it be by magneto or coil. It should be noted particularly that vaporization of the oil in the antechamber takes place during the whole of the induction stroke and a good part of the compression stroke. The proportions established betweee ante-chamber and cylinder, according to compression ratio, are such that fuel and air do not form an explosive mixture until the compression stroke is terminating, the mixture up to this moment being far too rich for ignition. It is claimed that high compression ratios may be safely used with this head, as the shock of explosion is greatly reduced in the venturi which communicates with the cylinder. Petrol is employed for -starting purposes, and the earburetter has two float chambers for oil and petrol, the whole appliance, with filters, etc., being particularly easy to dismount and clean. The Bagnulo conversion head, patents for which are handled by Les Etablissements Edgar Brandt, 101, Boulevard Murat, Paris, is a praiseworthy attempt to tackle a difficult problem which has frequently proved to be baffling.