ONE HEARS
17th November 1933
Page 33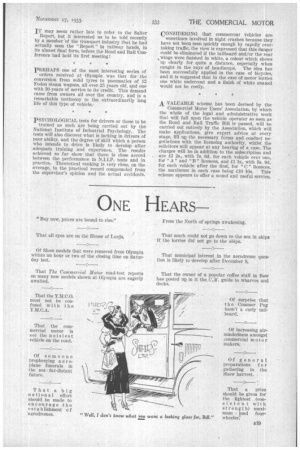 Page 33, 17th November 1933 —
ONE HEARS
Close
"Buy now, prices are bound to rise." That all eyes are on the House of Lords.
Of Show models that were removed from Olympia within an hour or two of the closing time on Saturday last.
That The Commercial Motor road-test reports on many new models shown. at Olympia are eagerly awaited.
That the Y.M.C.O. must not be confused with the Y.M.C.A.
That the commercial motor is not the noisiest vehicle on the road.
Of someone prophesying a e r oplane funerals in the not far-distant future.
That a big national effort should be made to encourage the establishment of a erodronies. From the North of springs awakening. • That much could not go down to the sea in ships if the lorries did not go to the ships.
That municipal interest in the aerodrome question is likely to-develop after December 8, That the owner of a popular coffee stall in Bow has posted up in it the CM. guide to wharves and docks.
Of surprise that the Commer Pug hasn't a curly tailboard.
Of increasing airmindedness amongst commercial in o tor makers.
Of general preparations f o r gathering in the Show harvest.
That a prize should be given for the lightest (con515 tent with strength) maximum load fourwheeler: