Passing Comments
17th November 1933
Page 32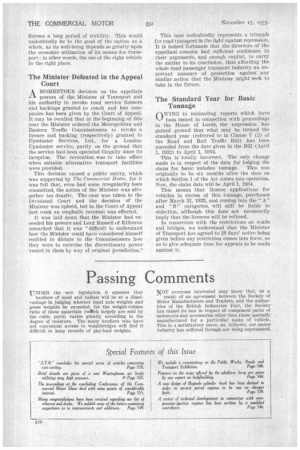 Page 33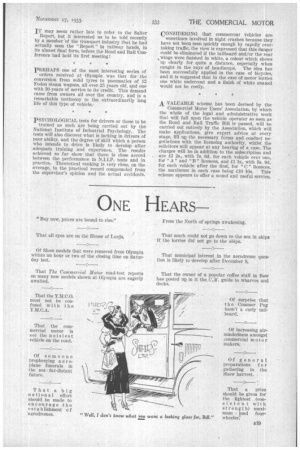 Page 32, 17th November 1933 —
Passing Comments
Close
UNDER the new legislation it appears that hauliers of sand and ballast will be at a disadvantage in judging whether legal axle weights and gross weights be exceeded, for the weight-volume ratio of these materials (wch largely are sold by the .cubic yard) varies greatly according to the degree Of moisture. The many hauliers who have not convenient access to weighbridges will find it difficult to keep records of pay-load weights. NOT everyone interested may know that, as a. result of an agreement between the Society of Motor Manufacturers and Traders, and the authorities of the British Industries Fair, the Society has raised its ban in respect of component parts of motorcars and accessories other than those specially manufactured for a particular make of vehicle. This is a satisfactory move, as, hitherto, our motor industry has suffered through not being represented. IT may seem rather late to refer to the Salter
Report, but it interested us to be told recently by a member of the transport industry that he had actually seen the "Report" in railway hands, in its almost final form, before the Road and Rail Conference had held its first meeting I PERHAPS one of the most interesting series of
orders received at Olympia was that for the conversion from solid tyres to pneumatics of 12 Foden Steam wagons, all over 25 years old, and one with 30 years of service to its credit. This demand came from owners all over the country, and is a remarkable testimony to the extraordinarily long life of this type of vehicle.,
PSYCHOLOGICAL tests for drivers or those to be trained as such are being carried out by the National Institute of Industrial Psychology. The tests will also discover what is lacking in drivers of poor ability, and the degree of skill which a. person who intends to drive is likely to develop after adequate training and experience. The results achieved so far show that there is close accord between the performance in N.I.I.P. tests and in practice. Theoretical ranking is very close, on the average, to the practical record compounded from the supervisor's opinion and the actual accidents. CONSIDERING that commercial vehicles are
sometimes involved in night crashes because they have not been seen quickly enough WI rapidly overtaking traffic, the view is expressed that this danger Could be eliminated if the tailboard and/or the rear wings were finished in white, a colour which shows up clearly for quite a distance, especially when caught in the rays of headlamps. The idea has been successfully applied in the ease of bicycles, and it is suggested that in the case of motor lorries one white undercoat and a finish of white enamel would not be costly.
A VALUABLE scheme has been devised by the Commercial Motor Users' Association, by which the whole of the legal and administrative work that will fall upon the vehicle operator so soon as the Road and Rail Traffic Bill is passed, will be carried out entirely by the Association, which will make applications, give expert advice at every stage, fill un the necessary forms and conduct negotiations with the licensing authority, whilst the solicitors .will appear at any hearing of a case. The charges will be in addition to the subscription and are £2 2s., with 7s. 6d. for each vehicle over one, for "A" and "B" licences, and £1 1s., with 3s. 9d. for each vehicle after the first, for " C " licences, the maximum in each ease being £10 10s. This scheme appears to offer a sound and useful service.