THE 1915 ROYAL SHOW AT NOTTINGHAM.
17th June 1915
Page 7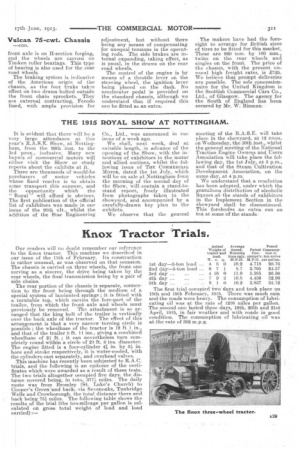 Page 7, 17th June 1915 —
THE 1915 ROYAL SHOW AT NOTTINGHAM.
Close
It is evident that there will be a very large attendance at this year's R.A.S.E. Show, at Nottingham, from the 29th inst. to the 3rd prox., inclusive. Many new buyers of commercial motors will either visit the Show or study reports about the exhibits at it.
There are thousands of would-be purchasers of motor vehicles whose fixed resolve is to obtain some transport this summer, and the opportunity which the " Royal ' will afford is obvious. The first publication of the official list of exhibitors was made in our issue of the 20th ult., whilst the addition of the Star Engineering Co., Ltd., was announced in our issue of a week ago.
We shall, next week, deal at suitable length, in advance of the. opening of the Show, with the intentions of exhibitors in the motor and allied sections, whilst the following issue of THE COMMERCIAt MoToa, dated the let July,. which will be on sale at Nottingham from the morning of the second day of the Show, will.contain a stand-tostand report, freely illustrated from photographs taken in the showyard, and accompanied by a carefully-drawn key plan to the exhibits.
We observe that the general meeting of the R.A.S.E. will take place in the showyard, at 12 noon, on Wednesday, the 30th inst., whilst the general meeting of the National Traction Engine Owneas and Users Association will take place the following day, the 1st July, at 3 p.m., and that of the Steam Cultivation Development Association, on the same day, at 4 p.m.
We understand that a resolution has been adopted, under which the gratuitous distribution of alcoholic liquors .at, the stands of exhibitors in the Implement Section in the showyard shall be discontinued. This forebodes an extra run on tea at some of the stands