Motorbus World.
17th June 1909
Page 8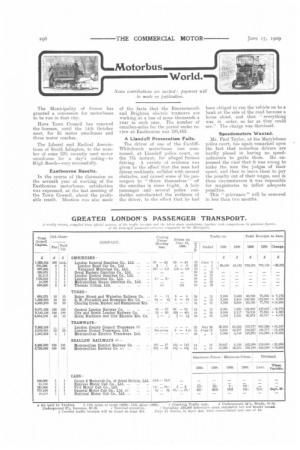 Page 8, 17th June 1909 —
Motorbus World.
Close
News contributions are invited : payment will be made on publication.
The Municipality of Genoa has granted a concession for motorbuses to be run in that city.
Hove Town Council has renewed the licenses, until the 14th October next, for 35 motor omnibuses and three motor coaches.
The Liberal and Radical Associations of South Islington, to the number of some 220, recently used motor omnibuses for a day's outing-to High Beech-very successfully.
Eastbourne Results.
In the course of the discussion on the seventh year of working of the Eastbourne motorbuses, satisfaction was expressed, at the last meeting of the Town Council. about the profitable result. Mention was also made
of the facts that the Bournemouth and Brighton electric tramcars are working at a loss of some thousands a year in each case. The number of omnibus-miles for the period under review at. Eastbourne was 190,463.
A Llandaff Prosecution Fails.
The driver of one of the CardiffWhitchurch motorbuses was summoned, at Llandaff police court, on the 7th instant, for alleged furious driving. A variety of evidence was given to the effect that the man had driven recklessly, collided with several obstacles, and caused some of his passengers to " throw themselves " off the omnibus in sheer fright. A lady passenger and several police constables corroborated the evidence of the driver, to the effect that he had
been obliged to run the vehicle on to a bank at the side of the road because a horse shied, and that " everything was in order, so far as they could see." The charge was dismissed.
Speedometers Wanted.
Mr. Paul Taylor, at the Marylebone police court, has again remarked upon the fact that motorbus drivers are hardly placed in having no speedindicators to guide them. He expressed the view that it was wrong to make the men the judges of their speed, and then to leave them to pay the penalty out of their wages, and in these circumstances it was impossible for magistrates to inflict adequate penalties. This " grievance " will be removed in less than two months.