Opinions from Others.
17th June 1909
Page 21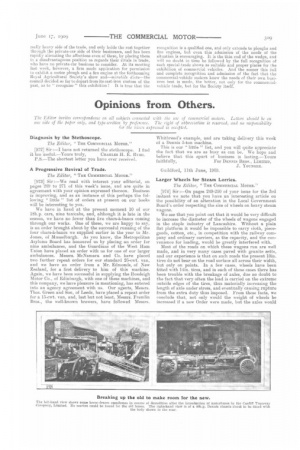 Page 22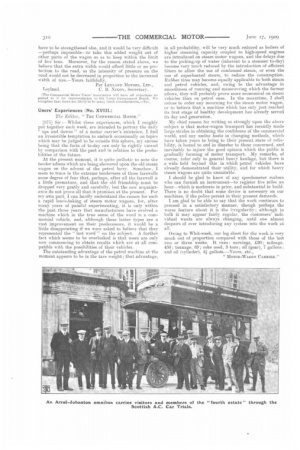 Page 21, 17th June 1909 —
Opinions from Others.
Close
The Editor invites correspondence on all subjects connected with the use of commercial motors. Leiters should be on one side of the paper only, and tyPe-zcritten by preference. The right of abbreviation is reserved, and no responsibility for the views expressed is accepted.
Diagnosis by the Stethoscope.
The Editor, THE COMMERCIAL MOTOR."
[72] Sir :—I have not returned the stethoscope. 1 find it too useful.—Yours truly, CHARLES H. E. Itusn. P.S.—The shortest letter you have ever received.
A Progressive Revival of Trade.
The Editor, "THE COMMERCIAL MOTOR."
[973] Sir :—We read with interest your editorial, on pages 269 to 271 of this week's issue, and are quite in agreement with your opinion expressed thereon. Pusiness is improving, and as an instance of this perhaps the following " little " list of orders at present on our books will be interesting to you.
We have in hand at the present moment 10 of our 184. cars, nine taxicabs, and, although it is late in the season, we have no fewer than five chars-à-bancs coming through our works. One of these, we are happy to say, is an order brought about by the successful running of the four chars-h-banes we supplied earlier in the year to Mr. Jones, of Musselburgh. As you know, the Metropolitan Asylums Board has honoured us by placing an order for nine ambulances, and the Guardians of the West Ham Union have placed an order with us for one of our larger ambulances. Messrs. McNamara and Co. have placed two further repeat orders for our standard 25-cwt, van, and we have an order from a Mr. Edmonds, of New Zealand, for a first delivery to him of this machine. Again, we have been successful in supplying the Rossleigh Motor Co., of Edinburgh, with one of these machines, and this company, we have pleasure in mentioning, has entered into an agency agreement with us. Our agents, Messrs. Thos. Green and Son, of Leeds, have placed a repeat order for a 15-cwt. van, and, last but not least, Messrs. Fremlin Bros., the well-known brewers, have followed Messrs. Whitbread's example, and are taking delivery this week of a Dennis 5-ton machine.
This is our " little " list, and you will quite appreciate the fact that we are as busy as can be. We hope and believe that this spurt of business is lasting.—Yours
faithfully, For DENNIS BROS., LIMITED, J. YOU.NGER.
Guildford, 11th June, 1909.
Larger Wheels for Steam Lorries.
The Editor, " THE COMMERCIAL MOTOR."
L974] Sir :—On pages 249-250 of your issue for the 3rd instant we note that you have an interesting article on the possibility of an alteration in the Local Government Board's order respecting the size of wheels on heavy steam wagons. We see that you point out that it would be very difficult to increase the diameter of the wheels of wagons engaged in the staple industry of Lancashire. Without a plain flat platform it would be impossible to carry cloth, piecegoods, cotton, etc., in competition with the railway company and ordinary carriers, as the capacity, and the convenience for loading, would be greatly interfered with Most of the roads on which these wagons run are well made, and in very many cases paved with granite setts, and our experience is that on such roads the present 10in. tires do not bear on the road surface all across their width, but only on points. In a few cases, wheels have been fitted with 14in, tires, and in each of these cases there has been trouble with the breakage of axles, due no doubt to the fact that very often the load is carried on the extreme outside edges of the tires, thus materially increasing the length of axle under stress, and eventually causing rupture from the extra duty thus imposed. From these facts, we conclude that, not only would the weight of wheels be increased if a new Order were made, but the axles would have to be strengthened also, and it would be very difficult —perhaps impossible—to take this added weight out of other parts of the wagon so as to keep within the limit of five tons. Moreover, for the reason stated above, we believe that the extra width would afford little or no protection to the road, as the intensity of pressure on the road would not be decreased in proportion to the increased width of tire.—Yours faithfully,
Per LEYLAND MOTORS, LTD., Leyland. C. B. NIXON, Secretary.
[The Commercial Motor Users Association will bare all objections reported to it for represeatation to the T.ocal Government Board. We recognise that there are likely to be rnati fresh considerations.—En.]
Users' Experiences (No. XVIII.)
The Editor, "THE COMMERCIAL MOTOR."
[975] Sir :– Whilst these experiences, which I roughly put together each week, are intended to portray the daily " ups and downs " of a motor carrier's existence. I find an irresistible temptation to embark occasionally on topics which may he judged to be outside this sphere, my excuse being that the facts of to-day can only he rightly viewed by comparison with the past and in relation to the probabilities of the future.
At the present moment, it is quite pathetic to note the tender 'adieus which are being showered upon the old steam wagon on the advent of the petrol lorry. Somehow, I seem to trace in the extreme tenderness of these farewells some degree of fear that, perhaps, after all the farewell is a little premature, and that the old friendship must be dropped very gently and carefully, lest the new acquaintance do not prove all that it promises at the present. For my own part, I can hardly understand the reason for such a rapid leave-taking of steam motor wagons, for, after many years of painful experimenting, it is only within the past three years that manufacturers have evolved a machine which in the true sense of the word is a commercial vehicle, and, although these latter types are a vast improvement on their predecessors, it would be a little disappointing if we wore asked to believe that they represented the " last word " on the subject. A further fact which seems to be overlooked is that users are only now commencing to obtain results which are at all compatible with the possibilities of their vehicles.
The outstanding advantage of the petrol machine at the moment appears to be in the tare weight ; that advantage, in all probability, will be very much reduced as boilers of higher steaming capacity coupled to high-speed engines are introduced on steam motor wagons, and the delays due to the picking-up of water (inherent to a steamer to-day) become very much reduced by the introduction of efficient filters to allow the use of condensed steam, or even the use of superheated steam, to reduce the consumption. Rubber tires may become equally applicable to both steam and petrol vehicles, and owing to the advantage in smoothness of running and manceuvring which the former allows, they will probably prove more economical on steam vehicles than on petrol ones. In the meantime, I shall refuse to order any mourning for the steam motor wagon, or to believe that a machine which has only just reached its first stage of healthy development has already served its day and generation.
My chief reason for writing so strongly upon the above subject is that motor-wagon transport has recently made large strides in obtaining the confidence of the commercial world, and any undue haste in changing methods, which have taken years to bring to their present state of reliability, is bound to end in disaster to those concerned, and inevitably to injure the good opinion which the public is gradually forming of motor transport. My remarks, of course, refer only to general heavy haulage, but there is a wide field beyond this in which petrol vehicles have elready demonstrated their utility, and for which heavy steam wagons are quite unsuitable.
I should be glad to know of any speedometer makers who can furnish an instrument—to register five miles an hour—which is moderate in price, and substantial in build. There is no doubt that some device is necessary on our machines, if the police persist in their present demands. am glad to be able to say that the work continues to proceed in a satisfactory manner, though perhaps the worse feature about it is the ieregularity; although in bulk it may appear fairly regular, the customers' individual wants are always changing, until one almost despairs of ever introducing any system into the work at Owing to Whit-week, our log sheet for the week is very much out of proportion compared with those of the last two or three weeks. It runs : earnings, £30; mileage, 450; tonnage, 69; coke used, 3 tons ; oil (gear), 7 gallons; and oil (cylinder), 41 galloes.—Yours, etc.,
" MOTOR-WAGON CARRIER."