It is a never-failing surprise to exhibitors at the Royal Agricultural
17th June 1909
Page 14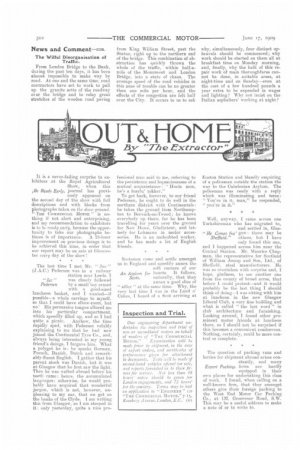 Page 14, 17th June 1909 —
It is a never-failing surprise to exhibitors at the Royal Agricultural
Close
Keywords :
Show, when this iBe Ready Early, journal has previ ously appeared on the second day of the show with full descriptions and with blocks from photographs taken on the show ground.
TUE COMMERCIAL MOTOR" is nothing if not alert and enterprising, and my recommendation to exhibitors is to be ready early, because the opportunity to take our photographs be time is of importance. A 24-hour improvement on previous doings is to be achieved this time, in order that our report may be on sale at Glancester every day of the show!
The last time I met Mr. " Jac " (JAG.) Pedersen was in a railway station near Leeds. I was closely followed Pedersen by a small boy armed with a good-sized luncheon basket, and I wanted—if possible—a whole carriage to myself, so that I could have elbow-room, but no His persuasive tongue allured me into his particular compartment, which speedily filled up, and so I had quite a picnic. Anyhow, the time rapidly sped, with Pedersen volubly explaining to use that he had now joined the Continental Tyre Co., and, always being interested in my young friend's doings, I forgave him. What a polygot he la : he speaks German, French, Danish, Dutch and remarkably-fluent English. I gather that his parent stock was Danish, but it was at Glasgow that he first saw the light. Then he was wafted abroad before his teeth came; hence, the accumulated lang-nages : otherwise, he would probably have acquired that wonderful jargon, which is not, however, unpleasing to my ear, that we get on
the banks of the Clyde. I am writing this from Glasgow, so I am steeped in it : only yesterday, quite a nice pro
fessional man said to me, referring to the persistence and loquaciousness of a mutual acquaintance : " Hoots moss, he's a fearful tokker."
To get back, however, to our friend Pedersen, he ought to do well in the northern district with Continentals: he takes the ground from Northampton to Berwick-on-Tweed; he knows everybody up there, for he has been travelling for years over the ground for New Howe, Gladiateur, and latterly for Lohmann in meter accessories. He is an undoubted worker, and he has made a lot of English friends.
Scotsmen come and settle amongst us in England and speedily annex the soft corners of our hearts. It follows, Scots. naturally, that they
annex a good slice of " siller " at the same time. Why, the very last time I was in the Land o' Cakes, I heard of a Scot arriving at
An Asylum for
Euston Station and blandly enquiring of a policeman outside the station the way to the Caledonian Asylum. The policeman was ready with a reply which was illuminating and terse " You're in it, man," he responded, " you're in it."
Well, anyway, 1 came across one Yorkshireman who has migrated to, and settled in, Was" He Comes fra gow : there may be Sheffield." others, but I have only found this one, and I happened across him near the Central Station. Mr. Maurice Chapman, the representative for Scotland of William dessop and Son, Ltd., of Sheffield, steel manufacturers. He was so overtaken with surprise and, I hope, gladness, to see another one from the county of broad acres, that before I could protest—and it would probably be the last thing I should think of doing—I was sitting with him at luncheon in the new Glasgow Liberal Club, a very fine building and what is called " the last word " in club architecture and furnishing. Looking around, I found other prominent motor friends at luncheon there, so I should not. be surprised if this becomes a convenient rendezvous. Nothing, certainly, could be more central or complete.
The question of packing vans and lorries for shipment abroad arises con stantly, and many Export Packing. firms are hardly equipped in their own places for undertaking this class of work. I found, when calling on a well-known firm, that they amongst others give their foreign packing to the West End Motor Car Packing Co., at 1.82, Grosvenor Road, SW, This may be a useful address to make a note of or to write to.