Trade at His Own Door.
17th June 1909
Page 1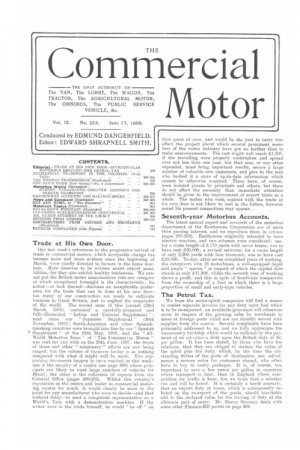 Page 1, 17th June 1909 —
Trade at His Own Door.
Close
Our last week's references to the progressive revival of trade in commercial motors, which acceptable change has become more and more evident since the beginning of March, were chiefly directed to factors in the home markets. More deserves to be written anent export possibilities, for they also exhibit healthy tendencies. We cannot put the British motor manufacturer into any category of which exceptional foresight is the characteristic; his action—or lack thereof—discloses an inexplicable preference for the trade that can be done at his own door : too many of our constructors are ready to cultivate business in Great' Britain, and to neglect the remainder of the world. The second issue of this journal (23rd March, 1905), contained a carefully-prepared and fully-illustrated " Indian and Colonial Supplement next came our "Japanese Supplement " (30th November, 1905); South-American and other Spanishspeaking countries were brought into line by our " Spanish Supplement " of the 24th May, 1906; and the "
World Motorbus Issue " of "THE COMMERCIAL MOTOR " was sent far and wide on the 20th June, 1007: the fruits of these and other " missionary" efforts are now being reaped, but the volume of turnover to-day is as nothing compared with what it might well be made. Two supporting documents happen to have reached us this week : one is the enquiry of a reader (see page 300) whose prineipals are likely to want large numbers of vehicles for Brazil; the other is the collection of reports from the Colonial Office (pages 290-292). Whilst this country's reputation as the centre and leader in commercial motoring counts for much, it would clearly be more to the point for any manufacturer who were to decide—and that without delay—to send a competent representative on a World's Tour with a demonstration machine. If the .writer were in the trade himself, he would "be off " on
that quest at once, and would be the first to carry into effect the project about which several prominent members of the motor industry have got no farther than to make announcements. The cost might well reach !.1,500, if the travelling were properly undertaken and spread over not less than one year, but that sum, or any other expended, must bring important results, secure a large number of valuable new customers, and give to the men who hacked it a store of up-to-date information which cannot be otherwise acquired. There have, of course, been isolated jaunts by principals and others, but these do not affect the necessity that immediate attention should be given to the improvement of export trade as a whole, The maker who rests content with the trade at his own door is not likely to lead in the future, however sound his present connections may appear.