DELIVERING THE GOODS
17th January 1947
Page 32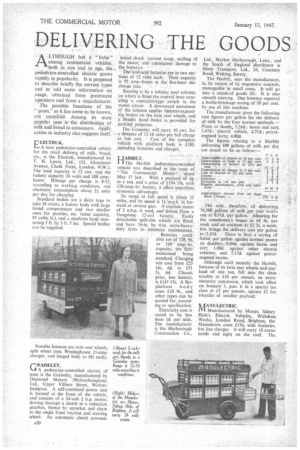 Page 33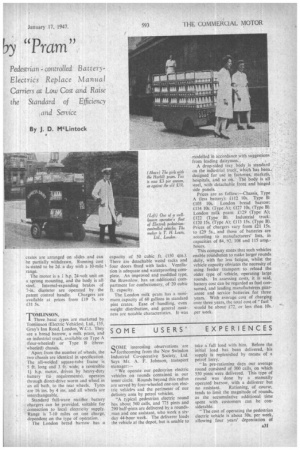 Page 32, 17th January 1947 —
DELIVERING THE GOODS
Close
by "Pram"
Pedestrian controlled BatteryElectrics Replace Manual Carriers at Low Cost and Raise the Standard of Efficiency
and Service
By J. D. McLintock ALTHOUGH but a "babe among commercial vehicles, both in size and in age, the-, pedestrian-controlled electric grows rapidly in popularity. It is proposed to describe briefly the current types and to add some information on usage, obtained from prominent operators and from a manufacturer.
The possible functions of the "pram," as it has come to be known, are manifold. Among its most popular uses is the distribution of milk and bread to consumers. Application to industry also suggests itself.
LECTRUK.
LA A neat pedestrian-controlled vehiclz for the retail delivery of milk, bread, etc., is the Electruk, manufactured by T. H. Lewis, Ltd., 122, Gloucester Avenue, Chalk Farm, London, N.W.1. 1 he load capacity is 12 cwt. and the battery Capacity 24 volts and 108 amp.hours. Mileage per charge is 8-12, according to workir.g conditions, and electricity consumption about 21 units per day for charging. Standard bodies are a dairy type to take 24 crates, a bakery body with large bread compartment and two smaller ones for pastries. etc. (total capacity. 85 cubic ft.), and a platform body measuring 5 ft. by 3 ft. 5 ins. Special bodies can be supplied.
Notable features are twin rear wheels, split wheel runs. Westinghouse 15-amp. charger, and hinged body to lift easily.
GRAISELEY. A pedestrian-controlled electric of note is the Graiseley, manufactured by Diamond Motors (Wolverhampton), Ltd., Upper Villiers Street. Wolverhampton. A self-contained power unit is located at the front of the vehicle, and consists of a 24-volt h.p. motor. driving througn a clutch to a reduction gearbox. thence by sprocket and chain to the single front traction and steering wheel. An automatic clutch prevents
A30
initialshock, current surge, stalling of the motor, and consequent damage to the batter-los.
The lead-acid batteries are in two sections of 12 volts each. Their capacity is 92 amp.-hours at the five-hour dis charge rate. •
Steering is by a tubular steel column. on which is fitted the control lever actuating a contactor-type switch in the motor circuit. A downward movement of the column applies -internal-expanding brakes on the twin rear wheels, and a Bendix hand brake is provided for parking purposes.
The Graiseley will carry 10 cwt. for a distance of 12-18 miles per full charge
at low cost. Cost of the complete vehicle with platform body is £180, including batteries and charger.
HARBILT. 11 I-The Harbilt pedestrian-controlled vehicle was described in the issue 4:4 "The Commercial Motor" dated May 17 last. With a payload of up to a ton, and a price of £194 19s. with 128-amp.-hr. battery, it offers imporiant
economic advantages. ,
Its range at full speed is 'about 15 miles, and its speed is 31 m.p.h in forward or reverse gear. Atraction motor of 2 n.h.p. is used, and driven from a Tungstone 12-cell battery. , Easily detachable split-rim wheels are fitted. and have 16-in, by 4-in, extra-heavyduty tyres to minimize maintenance.
Batteries,, are of 28, 96,
or 160 amp.-hr. capacity, the 'firstmentioned being standard. Charging sets cost from £23 16s. 6d. to £51 25. 6d. Chassis price, less battery, is £147 15s. A flatplatform body costs £18 9s., and other types can be quoted for, according to specification.
Electricity cost is stated to be less than Id. per mile. The manufacturer is the Harborough Construction Co., Ltd., Market Harborough, Leics., and the South of England distributor • is Silent Transport, Ltd., 26, Courtney Road, Woking, Surrey.
The Harbilt, says the manufacturer, is, by reason of its responsive controls. manageable in small areas. It will go into a standard goods lift. It is also smooth runnsig. One brewery reported a bottle-breakage saving of 50 per cent. by use of this machine.
The manufacturer gives the following cost figures per gallon for the delivery of milk by the four normal methods:— Pram or dandy, 3.26d.; horse and cart, 3.47d.; electric vehicle, 3,71d.; petrolengincd lorry, 4.80d.
The figures relating to a Harbilt delivering 100 gallons of milk per day are stated to be as follow:—
s Depreciaan, of chassis at 10 per cent. 17 0 0 'Depreciation of body at 15 per ctnt. 3 3 0 Depreciation of .1rattery at 33% per
cent. ••• . 16 17 4 Depredation of enareer at 5 per r ' 2 8 7 Loss of interest at 214 per cent. .. 7 4 3 Licence .
Insurance .. . . 33 100 • 8
Licence .
Insurance .. . . 33 100 • 8 Electricity at .5d. per MM.. .. 3 7 8 Repairs, maintenance, tyres and lubri
Approximate• Annual Coat on these Basic Charges 76 0 10
The cost, therefore, of delivering 36,500 gallons of milk per year works out at 0.51d. per gallon. Allowing for the roundsman's wages at £4 4s, per week and an assistant at£2 2s. a .week. this brings the delivery cost per gallon to -2.63d. There is thus a saving of 0.63d. per gallon against normal prams or dandies: -0.84d. against horse and cart; 1.08d. against other electric vehicles; and 2.17d. against petrolengined lorries.
Although until recently the Harbilt, because of its twin rear wheels and payload of one ton, fell into the class taxable at £10 per annum, an extrastatutory concession, which took effect on January 1, puts it in a special tax class at £3 per annum. against £2 for tricycles of smaller payload.
lUTANULECTRIC.
Manufactured by Messrs. Sidney Hole's Electric Vehicles, Withdean Works, London Road, Brighton, the Manulectric costs £156, with batteries, but less charger. It will carry 16 crates inside and eight on the roof. The
crates are arranged on slides and can be partially withdrawn. Running cost isstated to be 2d. a day with a 10-mile range.
The motor is a I h.p. 24-volt unit on a sprung mounting, and the body is all steel. Internal-expanding brakes of 7-in, diameter are operated by the patent control handle. Chargers are available at prices from £19 7s. to £31 5s.
'TOMLINSON.
1 Three baste types are marketed by 'Tomlinson (Electric Vehicles), Ltd., 135, Gray's Inn Road, London,-W.C.1. They are a bread barrow, a milk pram, and an industrial truck, available on Type A Ifour-wheeled) or Type B (threewheeled) chassis.
Apart from the number of wheels, the two chassis are identical in specification. The all-welded square-tube frame is 5 ft. long and 3 ft. wide; a reversible 1 h.p. motor, driven by heavy-duty battery (to . requirements), operates through direct-drive worm and wheel in an oil bath, to the rear wheels. Tyres are 16 ins. by 4 ins and all wheels are interchangeable.
Standard full-wave rectifier battery chargers can be provided, suitable for connection to local electricity supply. Range is 7-10 miles on one charge, dependent on the type of operation.
The London bread barrow has a capacity of 50 cubic ft, (150 qtn.). There are detachable wood racks and four doors fitted with locks. Ventilation is adequate and waterproofing complete. An improved and modified type, the Brownlow, has an additional compartment for confectionery, of •20 cubic ft. capacity.
The London milk pram has a minimum.capacity of 60 gallons in standard pint crates. Ease of handling, even weight distribution, and general neatness are notable characteristics. It was .modelled in accordance with suggestions from leading dairymen:.
A drop-sided tray body is standard on the industrial truck, .Which has been. designed for use in factories, marketi, hospitals, and soon. The 'body is all steel, with detachable front and hinged side panels.
Prices are as follow:—Chassis, Type A (less battery): £112 10s. Type B: £105 10s. London bread barrow: £134 10s, (Type A); £127 10s. (Type B). London milk pram: £129 (Type A); £122 (Type B). industrial truck: £120 15s. (Type A); £113 15s. (Type B). .Prices of chargers vary from £21 15s. to £29 5s.,. and those of batteries are according to manufacturers' lists, in capacities of 84, 92, 108 and 115 amp.hours.
This company states that such vehicles enable roundsrfien to make larger rounds daily, with far less fatigue, whilst the vehicle capacity obviates the necessity of using feeder transport to reload the older type of vehicle, operating large rounds. In assessing costs, it is said, battery cost can be regarded as fuel consumed, and leading manufacturers guarantee and service batteries for three years. With average cost of charging over three years, the total cost of " fuel" would be about £72, or less than 10s.. per week.