of the week (continued) SIR WILLIAM HART ACCOMMODATES THE CUSTOMER.
17th February 1939
Page 34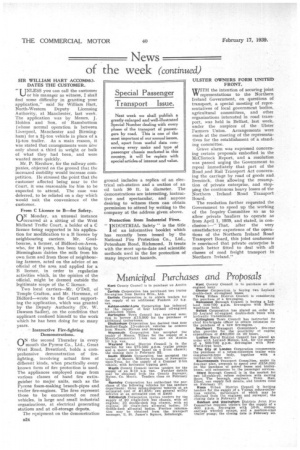 Page 35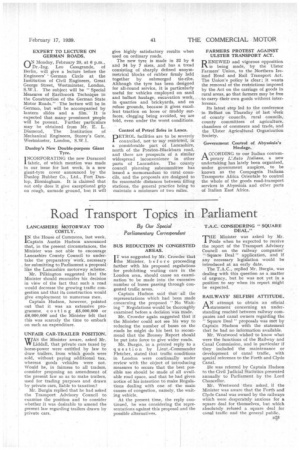 Page 34, 17th February 1939 —
of the week (continued) SIR WILLIAM HART ACCOMMODATES THE CUSTOMER.
Close
" f TNLESS you can call the customer '..-Jor his you
as witness, I shall find some difficulty in granting your application," said Sir William Hart, North-Western Deputy Licensing Authority, at Manchester, last week. The application was by Messrs. J. Holden and Son, of Ramsbottom (whose normal operation is between Liverpool. Manchester and Birmingham) for a 21-ton vehicle in place of a 11-ton trailer. As a main reason, it was stated that consignments were now only about a third in weight or bulk of what they had been, and were wanted more quickly.
Mr. P. Kershaw, for the railway companies, objected on the ground that the increased mobility would increase corn petition. He stressed the point that the customer affected being near to the Court, it was reasonable for him to be expected to attend. The case was deferred, to be relisted on a day which would suit the convenience of the customer.
From C Licence to B—for Safety. (IN Monday, an unusual instance kloccurred at a sitting of the West Midland Traffic Court, a holder of a C licence being supported in his application for modification to a B licence by neighbouring carriers. Mr. Goulbourne, a farmer, of Bidford-on-Avon, who, for 16 years, has been taking to Birmingham dairies the milk from his own farm and from those of neighbouring farmers, acted on the advice of an official of the area and applied for a B licence, in order to regularize activities which, in the opinion of the official, might be deemed outside the legitimate scope of the C licence.
Two local carriers—Mr. O'Dell, of Temple Grafton, and Mr. Horsman, of Bidford—wrote to the Court supporting the application, which was granted by the Deputy Authority (Dr. W. Dawson Sadler), on the condition that applicant confined himself to the work which he has been doing for so many years.
Instructive Fire-fighting Demonstrations.
ON. the second Thursday in every month the Pyrene Co., Ltd., Great West Road, Brentford, holds a comprehensive demonstration of firefighting, involving actual fires of different kinds, when practically every known form of fire protection is used. The appliances employed range from various classes of hand fire extinguisher to major units, such as the Pyrene foam-making branch-pipes and trailer fire-engines. The fires represent those to be encountered on road vehicles, in large and small industrial organizations, at electrical generating stations and at oil-storage depots.
The equipment on the demonstration ground includes a replica of an electrical sub-station and a section of an oil tank 30 ft. in diameter. The demonstrations are interesting, instructive and spectacular, and anyone desiring to witness them can obtain permission to attend by writing to the company at the address given above.
Protection from Industrial Fires.
" jNDUSERIAL Safety " is the title 1 of an informative booklet which has recently been issued by the National Fire Protection Co., Ltd., Petersham Road, Richmond. It treats with the most up-to-date and scientific methods used in the fire protection of many important bards.
ULSTER OWNERS FORM UNITED FRONT.
WITH the intention of securing joint YV representations to the Northern Ireland Government, on questions of transport, a special meeting of representatives of local government bodies, agricultural committees, and other organizations interested in road transport, was held in Belfast, last week, under the auspices of the Ulster Farmers Union. Arrangements were made at the meeting of the representatives for the establishment of a standing committee.
Grave alarm was expressed concerning certain proposals embodied in the McClintock Report, and a resolution was passed urging the Government to repeal immediately that part of the Road and Rail Transport Act concerning the carriage by road of goods and livestock, thus allowing the resumption of private enterprise, and stopping the continuous heavy losses of the Northern Ireland Road Transport Board.
The resolution further requested the Government to speed up the working of the Inquiry Committee so as to allow private hauliers to operate as from April 1, 1939, and stated, in conclusion :—" That, after the very unsatisfactory experience of the operations of the Northern Ireland Road Transport Board, this joint conference is convinced that private enterurise is much better fitted to deal With all classes of road freight transport in Northern Ireland." EXPERT TO LECTURE ON GERMAN ROADS.
t-IN Monday. February 20, at 6 p.m., Dr.-Ing. Leo Casagrande, of Berlin, will give a lecture before the Engineers ' German Circle at the Institution of Civil Engineers, Great George Street, Westminster, London, S.W.I. The subject will be " Special Measures of Earthwork Technique in the Construction of the German State Motor Roads." The lecture will be in German, but will he accompanied by lantern slides and a film. It is expected that many prominent people will be present. Further particulars may be obtained from Mr. E. L. Diamond, The Institution of Mechanical Engineers, Storey's Gate, Westminster, London, S.W.1.
Dunlop's New Double-purpose Giant I NCORPORATING the new Duracord fabric, of which mention was made in our issue for last week, is a new giant-tyre cover announced by the Dunlop Rubber Co., Ltd., Fort Dunlop, Birmingham. It is claimed that not only does it give exceptional grip on rough, unmade ground, but it will give highly satisfactory results when used on ordinary roads.
The new tyre is made in 32 by 6 and 34 by 7 sizes, and has a tread consisting of sharply defined unsymmetrical blocks of rubber firmly held together by submerged tie-ribs. Although the tyre has been designed for all-round service, it is particularly useful for vehicles employed on sand and ballast haulage, excavation work, in quarries and brickyards, and on refuse grounds, because it gives excellent traction on loose or muddy surfaces, clogging being avoided, we are told, even under the worst conditions.
Control of Petrol Sales in Lancs.
PETROL. facilities are to be severely controlled, not to say restrieted, in a considerable part of Lancashire, north of the Preston-Blackburn road, and there are prospects of a similar widespread inconvenience in other parts of Lancashire. The county council planning subcommittee has issued a memorandum to rural councils, and the proposals are designed to fix reasonable distances between filling stations, the general practice being to maintain a minimum of two miles.
FARMERS PROTEST AGAINST ULSTER TRANSPORT ACT.
RENEWED and vigorous opposition is being made, by the Ulster Farmers' Union, to the Northern Ireland Road and Rail Transport Act. The Union's policy is clear ; it wants the removal of the restrictions imposed by the Act on the carriage of goods in rural areas, so that farmers may be free to carry their own goods without interference.
Its latest step led to the conference in Belfast on Thursday of last 'Week of county councils, rural councils, county committees of agriculture, chambers of commerce and trade, and the Ulster Agricultural Organization Society.
Government Conrrof of Abyssinia's Haulage.
A CCORDING to our Italian contemPA porary L'Auto Italiatia, a new undertaking has lately been organized, under geveniment auspices, to be known as the Compagnia Italiana Transporte Africa Orientale to control the whole of the goods road-transport services in Abyssinia and other parts of Italian East Africa.
Tags
Organisations
:
Ulster Farmers' Union
,
North-Western Deputy Licensing Authority
,
Institution of Civil Engineers
,
Institution of Mechanical Engineers
,
county council planning subcommittee
,
Northern Ireland Government
,
Ulster Farmers Union
,
Inquiry Committee
,
Ulster Agricultural Organization Society
,
Northern Ireland Road Transport Board
,
West Midland Traffic Court