A new look for the Green Line ...es
17th December 1971
Page 19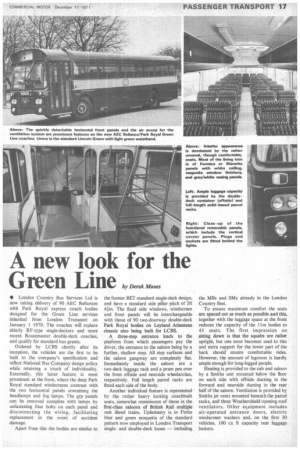 Page 19, 17th December 1971 —
A new look for the Green Line ...es
Close
• London Country Bus Services Ltd is now taking delivery of 90 AEC Reliances with Park Royal express coach bodies designed for the Green Line services inherited from London Transport on January 1 1970. The coaches will replace elderly RF-type single-deckers and more recent Routemaster double-deck coaches, and qualify for standard bus grants.
Ordered by LCBS shortly after its inception, the vehicles are the first to be built to the company's specification and reflect National Bus Company design policy while retaining a touch of individuality. Externally, this latter feature is most prominent at the front, where the deep Park Royal standard windscreens contrast with the two horizontal panels containing the headlamps and fog lamps. The grp panels can be removed complete with lamps by unfastening four bolts on each panel and disconnecting the wiring, facilitating replacement in the event of accident damage_ Apart from this the bodies are similar to the former BET standard single-deck design, and have a standard side pillar pitch of 511 41in. The fixed side windows, windscreen and front panels will be interchangeable with those of 90 two-doorway double-deck Park Royal bodies on Leyland Atlantean chassis also being built for LCBS.
A three-step entrance leads to the platform from which passengers pay the driver, the entrance to the saloon being by a further, shallow step. All step surfaces and the saloon gangway are completely flat. Immediately inside the saloon are a two-deck luggage rack and a pram pen over the front offside and nearside wheelarches, respectively. Full length parcel racks are fitted each side of the body.
Another individual feature is represented by the rather heavy looking coachbuilt seats, somewhat reminiscent of those in the first-class saloons of British Rail multiple unit diesel trains. Upholstery is in Firths blue and green moquette of the standard pattern now employed in London Transport singleand double-deck buses — including the MBs and SMs already in the London Country fleet.
To ensure maximum comfort the seats are spaced out as much as possible and this, together with the luggage space at the front reduces the capacity of the 1 lm bodies to 45 seats. The first impression on sitting down is that the squabs are rather upright, but one soon becomes used to this and extra support for the lower part of the back should ensure comfortable rides. However, the amount of legroom is hardly ample enough for long-legged people.
Heating is provided to the cab and saloon by a Smiths unit mounted below the floor on each side with offside ducting in the forward and nearside ducting in the rear half of the saloon. Ventilation is provided by Smiths jet vents mounted beneath the parcel racks, and three Weathershield opening.roof ventilators. Other equipment includes air-operated entrance doors, electric windscreen washers and, on the first 30 vehicles, 100 cu ft capacity rear luggage lockers.