'PAROCHIAL' OPERATORS
17th August 1985
Page 45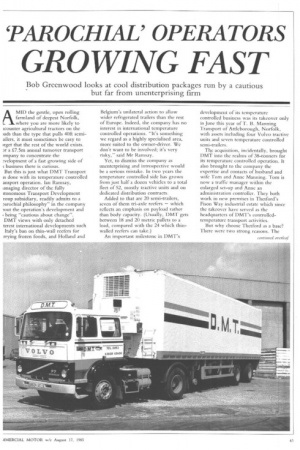 Page 46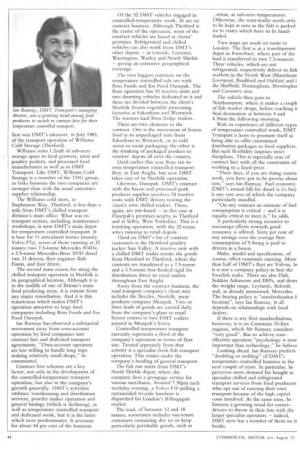 Page 45, 17th August 1985 —
'PAROCHIAL' OPERATORS
Close
GROWING FAST
Bob Greenwood looks at cool distribution packages run by a cautious but far from unenterprising firm
A..MID the gentle, open rolling farmland of deepest Norfolk, where you are more likely to icounter agricultural tractors on the >ads than the type that pulls 40ft semiailers, it must sometimes be easy to orget that the rest of the world exists. 31a £7.5m annual turnover transport )mpany to concentrate the
.velopment of a fast growing side of ; business there is curious.
But this is just what DMT Transport is done with its temperature controlled ansport operation. Ian Ramsay, Lanaging director of the fully Itonomous Transport Development roup subsidiary, readily admits to a /arochial philosophy" in the company lout the operation's development and ■ being "cautious about change". DMT views with only detached terest international developments such Italy's ban on thin-wall reefers for .rrying frozen foods, and Holland and Belgium's unilateral action to allow wider refrigerated trailers than the rest of Europe. Indeed, the company has no interest in international temperature controlled operations. "It's something we regard as a highly specialised area, more suited to the owner-driver. We don't want to be involved; it's very risky," said Mr Ramsay.
Yet, to dismiss the company as unenterprising and introspective would be a serious mistake. In two years the temperature controlled side has grown from just half a dozen vehicles to a total fleet of 52, mostly tractive units and on dedicated distribution contracts.
Added to that are 20 semi-trailers, seven of them tri-axle reefers — which reflects an emphasis on payload rather than body capacity. (Usually, DMT gets between 18 and 20 metric pallets to a load, compared with the 24 which thinwalled reefers can take.) An important milestone in DMT's development of its temperature controlled business was its takeover only in June this year of T. B. Manning Transport of Attleborough, Norfolk, with assets including four Volvo tractive units and seven temperature controlled semi-trailers.
The acquisition, incidentally, brought DMT into the realms of 38-tonners for its temperature controlled operation. It also brought to the company the expertise and contacts of husband and wife 'Fom and Anne Manning. Tom is now a traffic manager within the enlarged set-up and Anne an administration controller. They both work in new premises in Thetford's Fison Way industrial estate which since the takeover have served as the headquarters of DMT's controlledtemperature transport activities.
But why choose Thetford as a base? There were two strong reasons. The first was DMT's takeover, in July 1983, of the transport operation of Williams Cold Storage (Thetford).
Williams rents I.2cuft of sub-zero storage space to local growers, meat and poultry packers, and processed food manufacturers as well as to DMT Transport. Like DMT, Williams Cold Storage is a member of the TDG group, so links between the two companies are stronger than with the usual customersupplier relationship.
The Williams cold store, in Stephenson Way, Thetford, is less than a mile from DMT's chilled transport division's main office. What was its transport section, including maintenance workshops, is now DMT's main depot for temperature controlled transport. It is base for 11 articulated lorries (mainly Volvo F7s), seven of them running at 32 tonnes; two 7.5-tonne Mercedes 814Ds; a 3.5-tonne Mercedes-Benz 307D diesel van; 31 drivers; fleet engineer Bob Eason, and four fitters.
The second main reason for siting the chilled transport operation in Norfolk is its geographical location_ Although it is in the middle of one of Britain's main food producing areas, it is remote from any major conurbation. And it is this remoteness which makes DMT's operation attractive to large food companies including Ross Foods and Ess Food Danepak.
Ian Ramsay has'observed a substantial movement away froni own-account operation by food companies into contract hire and dedicated transport agreements. "Own-account operators are less willing to handle long trips making relatively small drops," he commented.
Contract hire schemes are a key factor, not only in the development of the controlled-temperature transport operation, but also in the company's growth generally. DMT's activities embrace warehousing and distribution services, powder tanker operation and general haulage (which is declining), as well as temperature controlled transport and dedicated work, but it is the latter which now predominates. It accounts for about 44 per cent of the business. Of the 52 DMT vehicles engaged in controlled-temperature work, 36 are on contract business_ Although Thetford is the centre of the operation, most of the contract vehicles are based at clients' premises. Refrigerated and chilled vehicles can also work from DMT's other depots — at Lincoln, Leicester, Warrington, Warley and North Shields — giving an extensive geographical coverage.
The two biggest contracts on the temperature controlled side are with Ross Foods and Ess Food Danepak. The Ross operation has 10 tractive units and two shunting vehicles dedicated to it and these are divided between the client's Norfolk frozen vegetable processing factories at Fakenham and Westwick. The tractors haul Ross fridge trailers.
There are two elements to the contract. One is the movement of frozen food in its unpackaged state from Fakenhain to Westwick, or to cold stores to await packaging; the other is the trunking of packaged product to retailers' depots all over the country.
Until earlier this year Ross ran its own temperature controlled transport fleet, in East Anglia, but now DMT takes care of its Norfolk operation.
Likewise, Danepak. DMT's contract with the bacon and processed pork products supplier involves 24 tractive units with DMT drivers towing the client's own chilled trailers. These, again, are out-based — in this case at Dancpak's premises nearby in Thetford and at Selby, West Yorkshire. This is a trunking operation, with the 32-tonne artics running to retail depots.
Third on DMT's list of contract customers is the Hereford poultry packer Sun Valley. A tractive unit with a chilled DMT trailer trunks the goods from Hereford to Thetford, where the contents are transferred to a 7.5-tonne and a 3.5-tonne box bodied rigid for distribution direct to retail outlets throughout East Anglia.
Away from the contract business, the road transport company's client mix includes the Beetles, Norfolk, meat products company Meatpak. Two or three loads of goods are carried daily from the company's plant to retail freezer centres in two DMT trailers painted in Meatpak's livery.
Controlled temperature transport currently represents a third of the company's operation in terms of fleet size. Treated seperately from that activity is a specialist fresh fish transport operation. This comes under the company's heading of general transport.
The fish run starts from DMT's North Shields depot, where the company does a groupage service for various merchants. Around 7.30pm each weekday evening, a Volvo F10 pulling a curtainsided tri-axle Insuliner is dispatched for London's Billingsgate market.
The load, of between 12 and 18 tonnes, sometimes includes one-tonne containers containing dry ice to keep particularly perishable goods, such as iawns, at sub-zero temperatures. Otherwise, the semi-trailer needs only to be kept at zero as the fish is packed ice in crates which have to be handloaded.
Two stops are made en route to London. The first is at a transhipment depot in Pontefract, where part of the load is transferred to two 7.5-tonners_ These vehicles, which are not refrigerated, respectively deliver to fish markets in the North West (Mancheste Liverpool, Bradford and Halifax) and i the Sheffield, Nottingham, Birmingham and Coventry area.
The vehicle then goes to
Northampton, where it makes a couph of fish market drops, before reaching ii final destination at between 4 and 4.30arn the following morning. With its experience of different types of temperature controlled work, DMT Transport is keen to promote itself as being able to offer customised distribution packages to food suppliers. But such flexibility imposes strict disciplines. This is especially true of contract hire with all the constraints of working to a fixed price.
"These days, if you are doing contra. work, you have got to be precise about cost," says Ian Ramsay. Fuel economy (DMT's annual bill for diesel is £1.5m) is one cost area of which the company particularly mindful.
"On any contract an estimate of fuel consumption is critical — and it is equally critical to meet it," he adds.
A particularly strong incentive to encourage efforts towards good economy is offered. Sixty per cent of any savings over the average fleet consumption of 9.4mpg is paid to drivers as a bonus.
Make, model and specification, of course, effect economic running. More than half of DMT's fleet are Volvos, 131 it is not a company policy to buy the Swedish make. There are also Dafs, Seddon Atkinsons and ERFs, and dowi the weight range, Leylands, Befords arid, as already mentioned, Mercedes. The buying policy is "standardisation E location", says Ian Ramsay. It all depends on relationships with local dealers.
If there is any fleet standardisation, however, it is on Cummins 10-litre engines, which Mr Ramsay considers "very good". But to achieve costeffective operation "psychology is mon important than technology," he believe Looking ahead, Ian Ramsay predicts "doubling or trebling" of DMT's temperature controlled business in the next couple of years. In particular, he perceives more demand for bought in specialist chilled and refrigerated transport services from food producers who opt out of running their own transport because of the high capital costs involved. At the same time, he foresees a growing trend for Ownerdrivers to throw in their lots with the larger specialist operators — indeed, DMT now has a number of them on it books.