When time is not on your side
17th April 1997
Page 80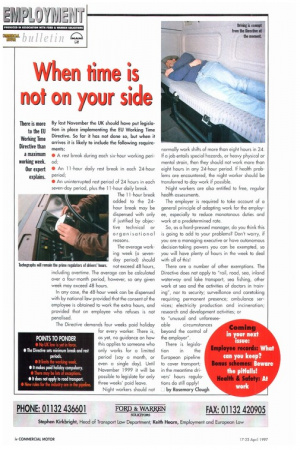 Page 80, 17th April 1997 —
When time is not on your side
Close
By last November the UK should have put legislation in place implementing the EU Working Time Directive. So far it has not done so, but when it arrives it is likely to include the following requirements: • A rest break during each six-hour working period;
• An 11-hour daily rest break in each 24-hour period;
• An uninterrupted rest period of 24 hours in each seven-day period, plus the 11-hour daily break.
The 11-hour break added to the 24hour break may be dispensed with only if justified by objective technical or organisational reasons.
The average working week (a sevenday period) should not exceed 48 hours, including overtime. The average can be calculated over a four-month period, however, so any given week may exceed 48 hours.
In any case, the 48-hour week con be dispensed with by national law provided that the consent of the employee is obtained to work the extra hours, and provided that on employee who refuses is not penalised.
The Directive demands four weeks paid holiday for every worker. There is, as yet, no guidance on how this applies to someone who only works for a limited period (say a month, or even a single day). Until November 1999 it will be possible to legislate for only three weeks' paid leave. Tachographs will remain the prime regulators of drivers' hours.
POINTS TO PONDER o
The Directive sets minimum break and rest
periods.
*It makes paid holiday compulsory.
• It does not apply to road transport.
Night workers should not normally work shifts of more than eight hours in 24. If ci job entails special hazards, or heavy physical or mental strain, then they should not work more than eight hours in any 24-hour period. If health problems are encountered, the night worker should be transferred to day work if possible.
Night workers are also entitled to free, regular health assessments.
The employer is required to take account of a general principle of adapting work for the employee, especially to reduce monotonous duties and work at a predetermined rate.
So, as a hard-pressed manager, do you think this is going to add to your problems? Don't worry, if you are a managing executive or have autonomous decision-taking powers you can be exempted, so you will have plenty of hours in the week to deal with all of this!
There are a number of other exemptions. The Directive does not apply to "rail, road, sea, inland waterway and lake transport, sea fishing, other work at sea and the activities of doctors in training", nor to security; surveillance and caretaking requiring permanent presence; ambulance services; electricity production and incineration; research and development activities; or to "unusual and unforesee able circumstances beyond the control of tion in the the employer".
There is legislamployee records:
411M
European pipeline
to cover transport; Wonus schemes:
in the meantime dri vers' hours regula tions do still apply!
by Rosemary Clough AIL Ali&
Health & Safety: