BRIEFS
17th April 1997
Page 6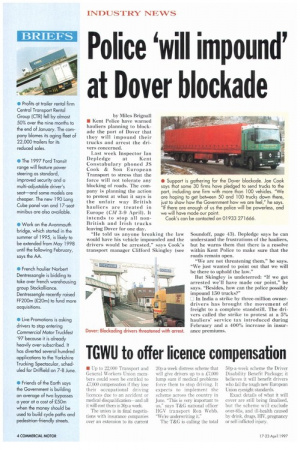 Page 6, 17th April 1997 —
BRIEFS
Close
• Profits at trailer rental firm Central Transport Rental Group (CTR) fell by almost 50% over the nine months to the end of January. The company blames its aging fleet of 22,000 trailers for its reduced sales.
• The 1997 Ford Transit range will feature power steering as standard, improved security and a multi-adjustable driver's seat—and some models are cheaper. The new 190 Long Cube panel van and 17-seat minibus are also available.
• Work on the Avonmouth bridge, which started in the summer of 1995, is likely to be extended from May 1998 until the following February, says the AA.
• French haulier Norbert Dentressangle is bidding to take over french warehousing group Stockalliance. Dentressengle recently raised FF200m (£20m) to fund more acquisitions.
• Live Promotions is asking drivers to stop entering Commercial Motor Truckfest '97 because it is already heavily over-subscribed. It has diverted several hundred applications to the Yorkshire Trucking Spectacular, scheduled for Driffield on 7-8 June.
• Friends of the Earth says the Government is building an average of two bypasses a year at a cost of £50m when the money should be used to build cycle paths and pedestrian-friendly streets.