'It is about time that hauliers stood united to fight for their survival'
17th April 1997
Page 55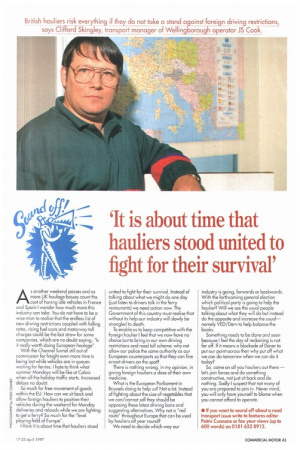 Page 55, 17th April 1997 —
'It is about time that hauliers stood united to fight for their survival'
Close
A5 another weekend passes and as more UK haulage bosses count the cost of having idle vehicles in France and Spain I wonder how much more this industry can take. You do not have to be a wise man to realise that the endless list of new driving restrictions coupled with falling rates, rising fuel costs and motorway toll charges could be the last straw for some companies, which are no doubt saying, "Is it really worth doing European haulage".
With the Channel Tunnel still out of commission for freight even more time is being lost while vehicles are in queues waiting for ferries. I hate to think what summer Mondays will be like at Calais when all the holiday traffic starts. Increased delays no doubt.
So much for free movement of goods within the EU. How can we sit back and allow foreign hauliers to position their vehicles during the weekend for Monday deliveries and reloads while we are fighting to get a ferry? So much for the "level playing field of Europe". I think it is about time that hauliers stood united to fight for their survival. Instead of talking about what we might do one day (just listen to drivers talk in the ferry restaurants) we need action now. The Government of this country must realise that without its help our industry will slowly be strangled to death. To enable us to keep competitive with the foreign haulier I feel that we now have no choice but to bring in our own driving restrictions and road toll scheme: why not allow our police the same authority as our European counterparts so that they can Fine errant drivers on the spot? There is nothing wrong, in my opinion, in giving foreign hauliers a dose of their own medicine.
What is the European Parliament in Brussels doing to help us? Not a lot. Instead of fighting about the size of vegetables that we can/cannot sell they should be opposing these latest driving bans and suggesting alternatives. Why not a "red route" throughout Europe that can be used by hauliers all year round?
We need to decide which way our industry is going, forwards or backwards. With the forthcoming general election which political party is going to help the haulier? Will we see the usual people talking about what they will do but instead do the opposite and increase the usual— namely VED/Derv to help balance the books.
Something needs to be done and soon because I feel the day of reckoning is not far off. If it means a blockade of Dover to put our point across then why put off what we can do tomorrow when we can do it today? So, come on all you hauliers out there — let's join forces and do something constructive, not just sit back and do nothing. Sadly I suspect that not many of you are prepared to join in. Never mind, you will only have yourself to blame when you cannot afford to operate.