• Vehicle dimensions: Changes proposed to C&U regs early in
17th April 1997
Page 54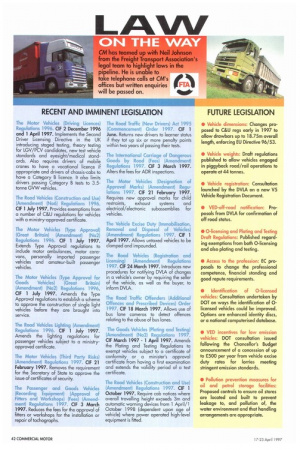 Page 54, 17th April 1997 —
• Vehicle dimensions: Changes proposed to C&U regs early in
Close
1997 to allow drawbars up to 18.75m overall length, enforcing EU Directive 96/53.
• Vehicle weights: Draft regulations published to allow vehicles engaged in piggyback road/rail operations to operate at 44 tonnes.
• Vehicle registration: Consultation launched by the DVLA on a new V5 Vehicle Registration Document.
• VED-off-road notification: Proposals from DVLA for confirmation of off road status.
• 0-licensing and Plating and Testing Draft Regulations: Published regarding exemptions from both 0-licensing and also plating and testing.
• Access to the profession: EC proposals to change the professional competence, financial standing and good repute requirements.
• Identificatior of 0-licensed vehicles: Consultation undertaken by DOT on ways the identification of 0licensed vehicles could be improved. Options are enhanced identity discs, or a national computerised database.
• VED incentives for low emission vehicles: DOT consultation issued following the Chancellor's Budget announcement of a concession of up to £500 per year from vehicle excise duty rates for lorries meeting stringent emission standards.
• Pollution prevention measures for oil and petrol storage facilities: Proposed controls to ensure oil stores are located and built to prevent leakage to, and pollution of, the water environment and that handling arrangements are appropriate.