Routine record check reveals tachograph offences
17th April 1997
Page 21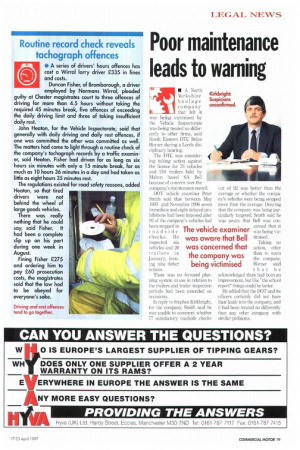 Page 21, 17th April 1997 —
Routine record check reveals tachograph offences
Close
• A series of drivers' hours offences has cost a Wirral lorry driver £335 in fines and costs.
Duncan Fisher, of Bromborough, a driver employed by Normans Wirral, pleaded guilty at Chester magistrates court to three offences of driving for more than 4.5 hours without taking the required 45 minutes break, five offences of exceeding the daily driving limit and three of taking insufficient daily rest.
John Heaton, for the Vehicle Inspectorate, said that generally with daily driving and daily rest offences, if one was committed the other was committed as well.
The matters had come to light through a routine check of the company's tachograph records by a traffic examin er, said Heaton. Fisher had driven for as long as six hours six minutes with only a 15 minute break, for as much as 10 hours 36 minutes in a day and had taken as little as eight hours 35 minutes rest.
The regulations existed for road safety reasons, added Heaton, so that tired drivers were not behind the wheel of large goods vehicles.
There was really nothing that he could say, said Fisher. It had been a complete slip up on his part during one week in August.
Fining Fisher £275 and ordering him to pay £60 prosecution costs, the magistrates said that the law had to be obeyed for everyone's sake.