Poor maintenance leads to warning
17th April 1997
Page 21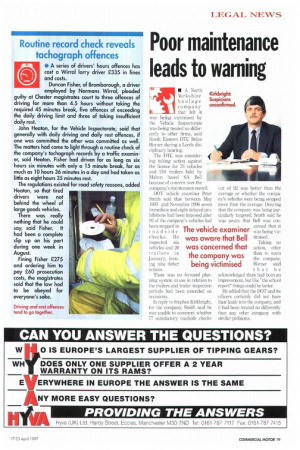 Page 21, 17th April 1997 —
Poor maintenance leads to warning
Close
• A North Yorkshire haulage company that felt it was being victimised by the Vehicle Inspectorate was being treated no differently to other firms, said North Eastern DTC Brian Horner during a Leeds disciplinary hearing.
The DTC was considering taking action against the licence for 76 vehicles and 210 trailers held by Malton based SA Bell because of concern over the company's maintenance record.
DOT vehicle examiner Peter Smith said that between May 1995 and November 1996 seven immediate and eight delayed prohibitions had been imposed after 92 of the company's vehicles had been stopped in roadside checks. Ile inspected six vehicles and 20 trailers in January, issuing nine defect notices.
There was no forward planning system in use in relation to the trailers and trailer inspection periods had been extended on occasions.
In reply to Stephen Kirkbright, for the company, Smith said he was unable to comment whether 77 satisfactory roadside checks
OF41 01.1
out of 92 was better than the average or whether the company's vehicles were being stopped more than the average. Denying that the company was being particularly targeted, Smith said he was aware that Bell was concerned that it was being victimised.
Taking no action, other than to warn the company, Horner said that he acknowledged there had been an improvement, but like ''the school report" things could be better.
He added that the DOT and its officers certainly did not have their knife into the company, and it had been treated no differently than any other company with similar problems.