Site access restricts limits
17th April 1997
Page 20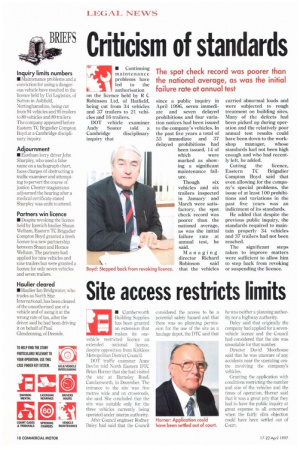 Page 20, 17th April 1997 —
Site access restricts limits
Close
• Cumberworth Building Supplies has been granted an extension that makes its onevehicle restricted licence an extended national licence, despite opposition from Kirklees Metropolitan District Council.
DOT traffic examiner Anne Devlin told North Eastern DTC Brian Horner that she had visited the site at Barnsley Road, Cumberworth, in December. The entrance to the site was five metres wide and on crossroads, she said. She concluded that the site was suitable only for the three vehicles currently being operated under interim authority After Council engineer Rodney Daley had said that the Council
fr--1
considered the access to be a potential safety hazard and that there was no planning permission for the use of the site as a haulage depot, the DTC said that he was neither a planning authority nor a highway authority.
Daley said that originally the company had applied for a sevenvehicle licence and the Council had considered that the site was unsuitable for that number.
Director David Moorhouse said that he was unaware of any accidents near the operating centre involving the company's vehicles.
Granting the application with conditions restricting the number and size of the vehicles and the times of operation. Horner said that it was a great pity that they had to have the public inquiry at great expense to all concerned when the fairly slim objection could have been settled out of Court.