Rise in interest rates warning
17th April 1997
Page 14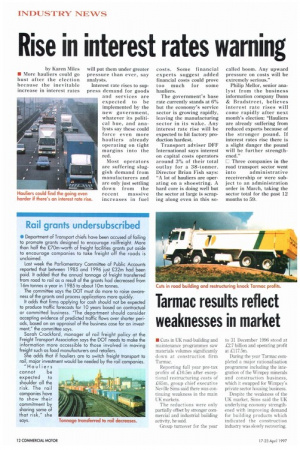 Page 14, 17th April 1997 —
Rise in interest rates warning
Close
by Karen Miles • More hauliers could go bust after the election because the inevitable increase in interest rates will put them under greater pressure than ever, say analysts.
Interest rate rises to suppress demand for goods and services are expected to be implemented by the new government, whatever its political hue, and analysts say these could force even more hauliers already operating on tight margins into the red.
Most operators are suffering sluggish demand from manufacturers and are only just settling down from the recent massive increases in fuel costs. Some financial experts suggest added financial costs could prove too much for some hauliers.
The government's base rate currently stands at 6% but the economy's service sector is growing rapidly, leaving the manufacturing sector in its wake. Any interest rate rise will be expected to hit factory production hardest.
Transport adviser DFF International says interest on capital costs operators around 3% of their total outlay for a 38-tonner. Director Brian Fish says: "A lot of hauliers are operating on a shoestring. A hard core is doing well but the sector at large is scraping along even in this so called boom. Any upward pressure on costs will be extremely serious."
Philip Mellor, senior analyst from the business information company Dunn & Bradstreet, believes interest rate rises will come rapidly after next month's election: "Hauliers are already suffering from reduced exports because of the stronger pound. If interest rates rise there is a slight danger the pound will be further strengthened."
C Three companies in the road transport sector went into administrative receivership or were subject to an administration order in March, taking the sector total for the past 12 months to 59.