Rail grants undersubscribed
17th April 1997
Page 14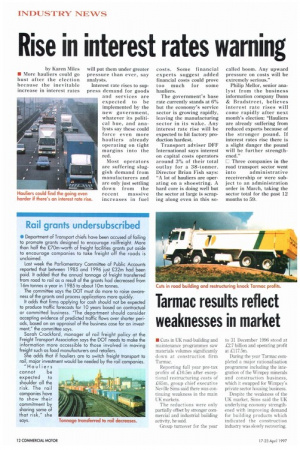 Page 14, 17th April 1997 —
Rail grants undersubscribed
Close
• Department of Transport chiefs have been accused of failing to promote grants designed to encourage railfreight. More than half the £70m-worth of freight facilities grants put aside to encourage companies to take freight off the roads is unclaimed.
Last week the Parliamentary Committee of Public Accounts reported that between 1985 and 1996 just £32m had been paid. It added that the annual tonnage of freight transferred From road to rail as a result of the grants had decreased from 16m tonnes a year in 1985 to about 10m tonnes. The committee says the DOT must do more to raise awareness of the grants and process applications more quickly. It adds that firms applying for cash should not be expected to produce traffic forecasts for 10 years based on contractual or committed business. "The department should consider accepting evidence of predicted traffic flows over shorter periods, based on an appraisal of the business case for an investment," the committee says. Sarah Crockford, manager of rail freight policy at the Freight Transport Association says the DOT needs to make the information more accessible to those involved in moving freight such as food manufacturers and retailers.
She adds that if hauliers are to switch freight transport to rail, major investment would be needed by the rail companies.
"Hauliers
cannot be expected to shoulder all the risk. The rail companies have to show their commitment by sharing some of that risk,' she says.