Road safety officers call for improved statistics
17th April 1997
Page 12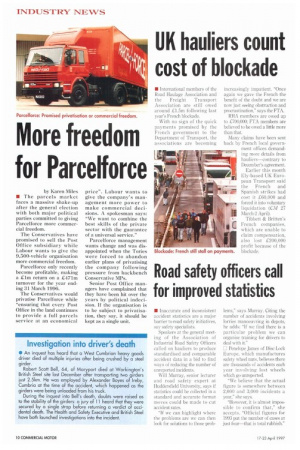 Page 12, 17th April 1997 —
Road safety officers call for improved statistics
Close
• Inaccurate and inconsistent accident statistics are a major barrier to road safety initiatives, say safety specialists.
Speakers at the general meeting of the Association of Industrial Road Safety Officers called on hauliers to produce standardised and comparable accident data in a bid to find ways of reducing the number of unreported incidents.
Will Murray, senior lecturer and road safety expert at lluddersfield University, says if statistics could he collected in a standard and accurate format moves could be made to cut accident rates.
"If we can highlight where the problems are we can then look for solutions to those prob
lems," says Murray. Citing the number of accidents involving lorries manoeuvring in depots, he adds: "If we find there is a particular problem we can organise training for drivers to deal with it."
CI Penelope James of Disc-Lock Europe, which manufactures safety wheel nuts, believes there are thousands of accidents each year involving lost wheels which go unreported.
"We believe that the actual figure is somewhere between 2,000 and 3,000 incidents a year," she says.
"However, it is almost impossible to confirm that," she accepts. "Official figures for 1993 put the number of cases at just four—that is total rubbish."