An Aid to Engine Overhauling.
17th April 1928
Page 50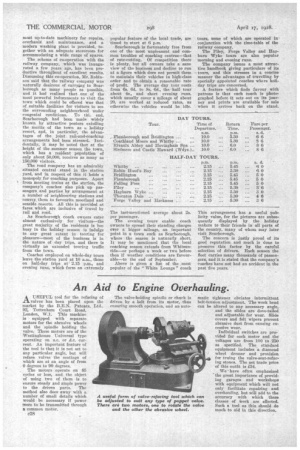 Page 50, 17th April 1928 —
An Aid to Engine Overhauling.
Close
A USEFUL tool for the refacing of stivalves has been placed upon the market by the B.E.N. Patents, Ltd., 92, Tottenham Court Road, London, W.1. This machine is equipped with separate motors for the abrasive wheels and the spindle holding the valve. These motors are of the Westinghouse Universal type operating on a.c. or dc. current. An important feature of the tool is that it is not set to any particular angle, but will reface valves the seatings of which are at an angle of from 0 degrees to 90 degrees.
. The motors operate on 85 cycles or less, and the object of using two of them is to ensure steady and ample power to the driven parts. The method also does away with a number of small details which would be necessary if power svere to be transmitted through a common motor. The valve-holding spindle or chuck is driven by a belt from its motor, thus ensuring smooth operation, and an auto
matic tightener obviates intermittent belt-tension adjustment. The work head can be altered to any necessary angle, and the slides are dove-tailed and adjustable for wear. Slide covers and felt wipers prevent abrasive dust from causing excessive wear.
Individual switches are provided for each motor and the voltages are from 100 to 250 as specified. The standard equipment includes a diamond wheel dresser and provision for truing the valve-seat-refacing stones. The net trade price of this outfit is £34.
We have often emphasized the great importance of providing garages and workshops with equipment which will not only facilitate repairing and overhauling, but will add to the accuracy with which these classes of Work are effected. Such a tool as this should do much to aid in this direction.