NEW RESTRICTION ON DOUBLE-DECKERS
16th September 1938
Page 52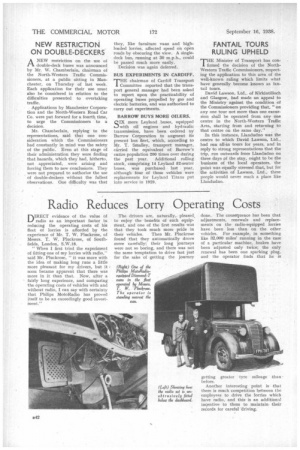 Page 52, 16th September 1938 —
NEW RESTRICTION ON DOUBLE-DECKERS
Close
ik NEW restriction on the use of i% double-deck buses was announced by Mr. W. Chamberlain, chairman of the North-Western Traffic Commissioners, at a public sitting in Manchester, On Thursday of last week. Theeh application for their use must also be considered in relation to the difficulties presented to overtaking traffic.
Applications by Manchester Corporation and the North-Western Road Car Co. were put forward for a fourth time, to urge the Commissioners to a decision.
Mr. Chamberlain, replying to the representations, said that one consideration which the Commissioners had constantly in mind was the safety of the public. Even at this stage of their administration they were finding that hazards, which they had, hitherto, not appreciated, were arising and forcing them to new conclusions. They were not prepared to authorize the use of double-deckers without the fullest observations, One difficulty was that they, like furniture vans and highloaded lorries, affected speed on open roads by obscuring the view. A singledeck bus, running at 30 m.p.h., could he passed much more easily.
Decision was again deferred.
BUS EXPERIMENTS IN CARDIFF. THE chairman of Cardiff Transport
HE
reported that the transport general manager had been asked to report upon the practicability of operating buses propelled by gas and electric batteries, and was authorized to carry out experiments.
BARROW BUYS MORE OILERS.
SIX more Leyland buses, equipped with oil engines and hydraulic transmission, have been ordered OY Barrow Corporation to augment its present bus fleet, which, according to Mr. T. Smalley, transport manager, carried the equivalent of Barrow's entire population 200 times over during the past year. Additional rolling, stock, comprising 14 Leyland 52-seater buses, was purchased last year, although four of these vehicles were replacements for Leyland Titans put into service in 1929.
FANTAIL TOURS RULING UPHELD
THE Minister of Transport has con.I. HE the decision of the North
Western Traffic Commissioners, respecting the application to this area of the wellsknown ruling which limits what have generally become known as fantail tours.
David Lawson, Ltd,. of Kirkintilloch and Glasgow, had made an appeal to the Ministry against the condition of the Commissioners providing that, "on any one tour not more than one excursion shall be operated from any one centre in the North-Western Traffic Area, starting from and returning to that centre on the same day.''
In this instance, Llandudno was the centre to which David Lawson, Ltd.. had run all-in tours for years, and in reply to strong representations that the trip, run outwards from Llandudno on three days of the stay, might to be the business of the local operators, the point was equally stressed :that, but for the activities of Lawson, Ltd., these people would never reach a place like Llandudno.