Unfair Penalties On Hauliers
16th September 1938
Page 48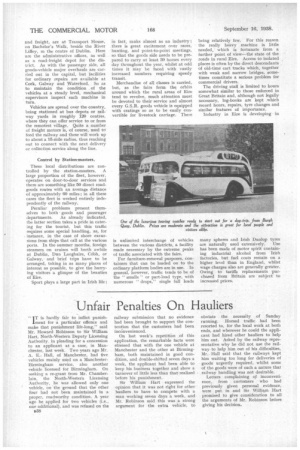 Page 48, 16th September 1938 —
Unfair Penalties On Hauliers
Close
" IT is hardly fair to inflict punish ment for a particular offence and make that punishment life-long," said Mr. Howard Robinson to Sir William Hart, North-Western Deputy Licensing Authority. in pleading for a concession to an applicant at a case, in Manchester, last week. Two years ago Mr. A. E.Hall, of Manchester, had five vehicles mainly used on a ManchesterBirmingham service, also another vehicle licensed for Birmingham. On seeking a re-grant from Mr. Chamberlain, the North-Western Licensing Authority, he was allowed only one vehicle, on the ground that the other four had not been maintained in a proper, roadworthy condition. A year ago he applied for two vehicles (i.e., one additional), and was refused on the B38 railway submission that no evidence had been brought to support the contention that the customers had been incOnvenienced.
On last week's repetition of this application, the remarkable facts were stressed that with the one vehicle at Manchester and the other at Birmingham, both maintained in good condition, and double-shifted seven days a week, the applicant had been able to keep his business together and show a turnover of little less than that realized before his punishment.
Sir William Hart expressed the opinion that it was not right for other• hauliers to have to compete with a man working seven days a week, and Mr. Robinson said this was a strong argument for the extra vehicle, to obviate the necessity of Sunday running. Horsed traffic had been resorted to, for the local work at both ends, and wherever he could the applicant had hired other hauliers to help him out. Asked by the railway representative why he did not use the railway to help him out of his difficulties, Mr. Hall said that the railways kept him waiting too long for deliveries of goods urgently required, whilst some of thegoods were of such a nature that railway handling was not desirable. Letters complaining of inconvenience, from customers who had previously given personal evidence, were put in and Sir William Hart promised to give consideration to all the arguments of Mr. Robinson before giving his decision.