Improved Facilities for Beet Deliveries
16th September 1938
Page 37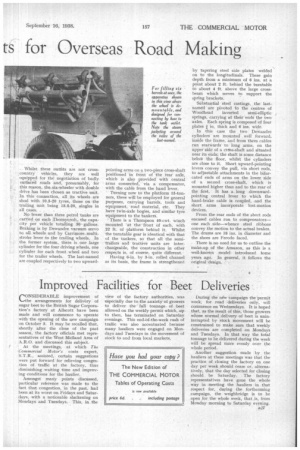 Page 37, 16th September 1938 —
Improved Facilities for Beet Deliveries
Close
CONSIDER ABLE improvement of %...,the arrangements for delivery of sugar beet to the British Sugar Corporation's factory at Allscott have been made and will commence to operate with the opening of the new campaign on October 3. It may be recalled that, shortly after the close of the past season, the factory officials met representatives of the West Midland Area of A.R.O. and discussed this subject.
At the meetings, at which The Commercial Motor's costs expert, S.T.R., assisted, certain suggestions were put forward for relieving congestion of traffic at the factory, thus diminishing waiting time and improving conditions forthe haulier.
Amongst many points discussed, particular reference was made to the fact that congestion, in the past, had been at its worst on Fridays and Saturdays, with a noticeable slackening on Mondays and Tuesdays. This, in the view of the factory authorities, was especially due to the anxiety of growers to deliver the full tonnage of beet allowed on the weekly permit which, -up to then, has terminated on Saturday evenings, This end-of-the-week rush of traffic was also accentuated because many hauliers were engaged on Mondays and Tuesdays in the movement of stock to and from local markets.
During the new campaign the permit week, for road deliveries only, will commence on Wednesdays. It is hoped that, as the result of this, those growers whose normal delivery of beet is uninterrupted by stock movement will be constrained to make sure that weekly deliveries are completed on Mondays and Tuesdays. In that way the total tonnage to be delivered during the week will be spread more evenly over the whole period.
Another suggestion made by the hauliers at these meetings was that the practice of closing the factory on one day per week should cease or, alternatively, that the day selected for closing should be Saturday. The factory representatives have gone the whole way in meeting the hauliers in that respect for, during the forthcoming campaign, the weighbridge is to be open for the whole week, that is, from Monday morning to Saturday evening.