The Wheels of Industry.
16th September 1915
Page 9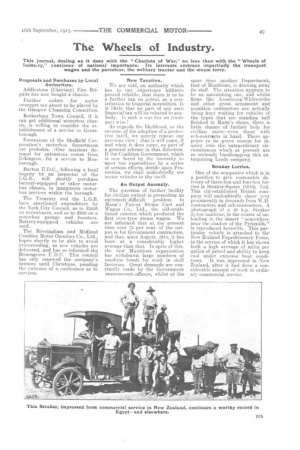 Page 10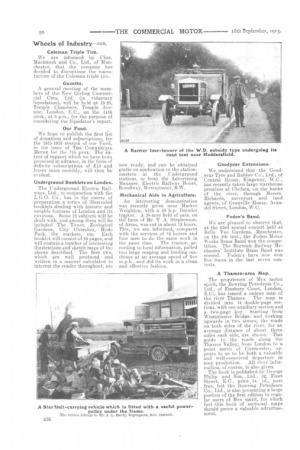 Page 11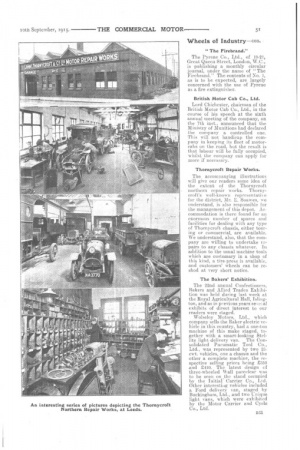 Page 9, 16th September 1915 —
The Wheels of Industry.
Close
This journal, dealing as it does with the "Chariots of War," no less than with the "Wheels of Industry," continues of national importance. Its interests embrace impartially the transport wagon and the parcekar, the military tractor and the steam lorry.
Proposals and Purchases by Local Authorities.
Addlestone (Chertsey) Fire Brigade has now bought a chassis.
Further orders for motor sweepers are about to be placed by the Glasgow Cleansing Committee.
Rotherham Town Council, if it can get additional motorbus chassis, is willing to consider the establishment of a service to Greasborough.
Extensions of the Sheffield Corporation's motorbus department are probable, tOne insistent demand for extensions comes from Eckington, for a service to Mosborough.
Burton U.D.C., following a local inquiry by an inspector of the L.G.B., will shortly purchase battery-equipped or other motorbus chassis, to inaugurate motorbus services within the borough.
The Treasury and the L.G.B. have sanctioned expenditure by the York City Council, as to 25530 on motorbuses, and as to 2650 on a motorbus garage and boosters. Battery-equipped vehicles are used.
The Birmingham and Midland Counties Motor Omnibus Co., Ltd., hopes shortly to be able to avoid overcrowding, as new vehicles are delivered, and has so informed the Bromsgrove U.D.C. This council has only renewed the company's licences until Christmas, pending the outcome of a conference as to services. New Taxation.
We are told, on authority which has in our experience hitherto proved reliable, that there is to be a further tax on petrol, as a contribution to Imperial necessities. It is likely that no part of any such Imperial tax will be rebated to anybody. Is such a war tax on. transport wise'?
As regaeids the likelihood, or the reverse, of the adoption of a protective tariff, we merely repeat our previous view : that it will come, if and when it does come, as part of a general scheme in that direction. If the Coalition. Government, which is now faced by the necessity to meet war expenditure by a series of serious efforts, decide upon Protection, we shall undoubtedly see motor vehicles in the tariff.
An Output Anomaly.
The question of further facility for civilian output is presenting an extremely-difficult problem to Mann's Patent Steam Cart and Wagon Co., Ltd.., the old-established concern which produced the first over-type steam wagon. We are informed that at the present time. over 76 per cent. of the output AS for Government contractors, and that, since August, 1914, it has been at a considerably higher average than that. In spite of this, the new , Munitions organization has withdrawn large numbers of machine hands for work in shell factories. Great demands are constantly made by the Government impressment,officers, whilst at the same time another Department, that of Munitions, is drawing away its staff. The situation appears. to be an astonishing one, and whilst firms like Armstrong-Whitworths and .other great armament' and munition contractors are actually being kept waiting for Vehicles of the types that are standing half finished in Mann's Shops, 'there is little chance of further help for civilian users—even those with sub-contracts in hand. There appears to be grave reason for inquiry into the extraordinary circumstances which at present are so seriously handicapping this en. terprismg Leeds company.
Straker Lorries.
One of the companies which is in a position to give reasonable delivery of three-ton and four-ton lorries is Straker-Squire (1913), Ltd. This old-established British company will undoubtedly share very prominently in demands from W.D. contractors and sub-contractors. A photograph of a 40 h.p. Straker 3-ton machine, in the course of unloading in the desert "somewhere near the shadow of the Pyramids," is reproduced herewith. This particular vehicle is attached to the New Zealand Expeditionary Force, in the service of which it has shown both a high average of miles per gallon of petrol and ability to keep cool under extreme heat conditions. It was impressed in New Zealand, after it had done a considerable amount of work in ordinary commercial service.
Wheels of Industry—Con.
Coleman Triple Tire.
We are informed by Chas. Macintosh and Co., Ltd., of Manchester, that the company has decided to discontinue the manufacture of the Coleman triple tire.
Gazette.
A general meeting of the members of the New Girling Commercial Cars, Ltd. (in voluntary liquidation), will be held at 19-20, Temple Chambers, Temple Ave-. flue, London, E.C., on the 11th prox., at 3 p.m., for the purpose of considering the liquidator's report..
Our Fund.
We hope to publish the first list of donations and subscriptions, for the 1916-1916 session of our Fund, in the issue of THE COMMERCIAL MOTOR for the 7th prox. The extent of support which we have been promised in advance, in the form of definite subscriptions of 210 and lesser sums monthly, will then be evident.
Underground Booklets on London.
The Underground Electric Rail-. ways, Ltd., in cohjunction with the L.G.O. Co., has in the course of preparation a series of illustrated booklets 'dealing with historic and notable features of London and its environs. Some 12 subjects will be dealt with, and among them will be included The Tower, Zoological Gardens, City Churches, Hyde Park, the markets, etc. Each booklet will consist of 16 pages, and will contain a number of interesting illustrations and sketch maps of the places described. The first two, which are well produced and written in a manner calculated to interest the reader throughout, are
now ready, and can be obtained gratis on application to the stationmasters at the Underground stations, or from the Advertising Manager, Electric Railway House, Broadway, Westminster, S.W.
Mechanical Aids in Agriculture.
An interesting demonstration was recently given near Market Weighton, with a 40 h.p. Daimler trctor. A 38-acre field of oats, on the farm of Mr. T. A. Stephenson, of Arras, was cut in about 13 hours. This, we are informed, compares with the services of 12 horses and four men to do the same work in the same time. The tractor, according to local information, pulled two large reaping and binding machines at an average speed of five m.p.h., and did its work in a clean and effective fashion.
Goodyear Extensions.
We understand that the Goodyear Tyre and Rubber Co., Ltd., of Central House, Ningsway, W.C,, has recently taken large warehouse premises at Chelsea, on the banks of the river, through Messrs. Richards, surveyors and land agents, of Granville House, Arundel Street, London, W. C.
Foden's Band.
We are pleased to observe that, at the 63rd annual contest held at Belle Vue Gardens, Manchester, on the 4th inst., the Foden Motor Works Brass Band won the competition. The Horwich Railway Mechanics' Institute Brass Band was second. Foden's have now won five times in the last seven contests.
A Thames-.area Map.
The proprietors of Ilex motor spirit, the Bowring Petroleum Co., Ltd., of Finsbury Court, London, EC., has issued a unique map of the river Thames. The map is divided into 14 double-page sections, with one auxiliary section and a two-page key. Starting from Westminster Bridge, and working upwards in two senses, the roads on both sides of the river, for an average distance of about three miles each side, are shown. This guide to the roads along the Thames Valley, from London to a point north of Cirencester, appears to us to be both a valuable and well-conceived departure in. map production. All river information, of course, is also given.
The book is published by George Philip and Son, Ltd., 32, Fleet Street, E.G., price is. id., post free, but the Bovvring Petroleum Co., Ltd., is also presenting a large portion of the first edition to regular users of Mex spirit, for which fuel this book of sectional maps should prove a valuable advertisement.
Wheels of Industry—con.
"The Firebrand."
The Pyrene Co. Ltd., of 19-21, Great Queen Street, London, is publishing a monthly circular journal, under the name of "The Firebrand." The contents of No. 1, as is to be expected, are largely concerned with the use of Pyrene as a fire extinguisher.
British Motor Cab Co., Ltd.
Lord Chichester, chairman of the British Motor Cab Co., Ltd., in the course of his speech at the sixth annual meeting of the company, on the 7th inst., announced that the Ministry of Munitions had declared the company a controlled one. This will not handicap the company in keeping its fleet of motorcabs on the road, but the result is that labour will be fully occupied, whilst the company can apply for more if necessary.
Thornycroft Repair Works.
The accompanying illustrations will give our readers some idea of the extent of the Thornyeroft northern repair works. Thornycroft's well-known represeiitatriis for the district, Mr. E. Soames, we understand, is also responsible for the management or this depot. Accommodation is there found for an enormous number of spares arid facilities for dealing with any type of Thornycroft chassis, either touring or commercial, are available. We understand, also, that the company are willing to undertake repairs to any chassis whatever. In addition to the usual machine tools which are customary in a shop of this kind, a tire-press is available, and customers' wheels can be reshod at very short notice.
The Bakers Exhibition.
The 22nd annual Confectioners, Rakers and Allied Trades Exhibition was held during last week at the Royal Agricultural Hall, Islington, and as in previous years sev.ei exhibits of direct interest to our readers were staged.
Wolseley Motors, Ltd., which company sells the Baker electric vehicle in this country, had a one-ton machine of this make staged, together with a smart-looking Stellite light delivery van. The Consolidated Pneumatic Tool Co., Ltd., was represented by two 25cwt. vehicles, one a chassis and the other a complete machine, the respective selling prices being 3110 and £410. The latest design of three-wheeled \A'all pare clear was to be seen on the stand occupied by the Initial Carrier Co., Ltd. Other interesting vehicles included a Ford delivery van, staged. by Buckingham, Ltd., ,and two Unique light vans, which were exhibited by the Motor Carrier and Cycle Co., Ltd.