Buy While You May.
16th September 1915
Page 1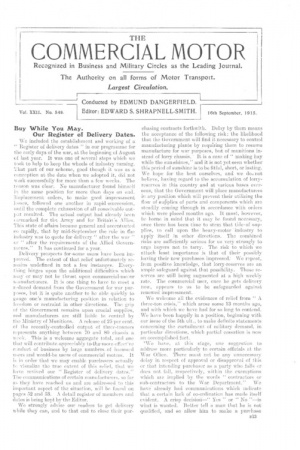 Page 2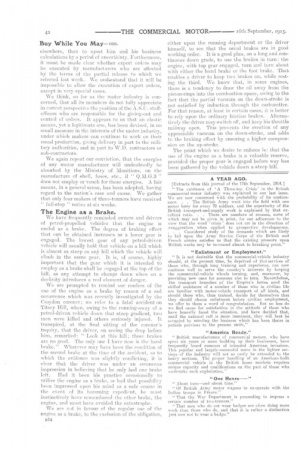 Page 1, 16th September 1915 —
Buy While You May.
Close
Our Register of Delivery Dates.
We included the establishment and working of a " Register of delivery dates " in our programme for the early days of the war, at the beginning of August of last year. It was one of several stops which we took to help to keep the wheels of industry turning. That part of our scheme, good though it was as a conception at the date when we adopted it, (WI not work successfully for more than a -few weeks. The reason was clear. No manufacturer found himself in the same position for more than days OD end.
Bei)lacer/rent orders, to make good impressment lesses, followed one another in rapid isuccession, until the complete exhaustion -of all conceivable outpit resulted. The actual outputhad already been iii marked for the.: Army and for Britanis This state of affairs became general and accentuated so rapidly, that by mid-September the rule in file industry was to quote for delivery " after the war " or " after the requirements of the Allied Governments." It has continued for a year.
Delivery prospects for-some users have been im
proved. The extent of that relief unfortunately remains undefined in not a few instances. Everything hinges upon the additional difficulties Which may or may not be thrust upon commercial-Knoor manufacturers. It is one thing to have to meet a reduced demand from the Government for war pm'
hut it is quite another to be able quickly to
gouge one's manufacturing position in relation to Iceridorn or restraint in other directions. The grip of the Government remains upon crucial supplies, mid manufacturers are still liable tocontrol by the Ministry of Munitions. A release of 25 per cent. of the recently-controlled output of throe-termers represents anything between 70 and SO chassis a week. This .is a welcome 4agregate total, and one that will contribute :appreciably to,thennore-effecfte c.Anduct of business by large numbers-of hampsed users and would-he users of commercial rooters. It is in order that-wemay enable purchasers actually to visualize the true extent of this relief, that we have revived our " Register of delivery dates." Tie communications of certain manufacturers, so far as they have reached us and are addressed to this important aspect of the situation, will be found on pages 52 and 53. A detail register of members and dates is being kept by the Editor.
We strongly advise CAW readers to get delivery while they can, and to that end to close their pur chasing contracts forthwith. Delay by them means the acceptance of the following risk: the likelihood that the Government will find it necessary to control manufacturing plants by requiring them to resume manufacture for war purposes, but of munitions instead of lorry chassis. • It is a case of" making hay while the stimshines," and it is not yet seen whether this period of sunshine is to. be fitful, short, or lasting. We hope for the best ourselves, a.nd we dos not believe., having regard to the accumulation of lorryreserves in this country and at various bases overseas, that the Government will place manufacturers in any position which will prevent their utilizing the flow of sufiPlies of parts and components which are steadily coming through in accordance with orders which were placed months ago. It must, however, be borne in mind that it may be found. necessary, once there has been time to stemthat tide,of supplies, to call upon the heavy-motorindustry to apply itself in other directions. The combined risks are sufficiently serious for us .yery:strongly to urge buyers not .to. tarry. The riskto which we attach least importance is that of their possibly having their new purchases impressed.' We repeat, from positive knowledge, that lorry-reserves are an ample safeguard against that possibility. Those reserves arc still being augmented at a. high weekly rate. The commercial user, once he gets delivery now, appears to us to be safeguarded against renewed impressment.
We welcome all the evidences of relief from " A three-ton crisis," which arose some 13 months ago, and with which we have had for so long to contend. We have been happily in a position, beginning with our issue of the 5th ult., to make definite statements concerning the curtailment of military demand, in particular directions, which partial cessation is now an accomplished fact-.
'We have, at this stage, one sugge-stion to addrQse more particularly to certain officials at the War Office. There must not be any unnecessary delay in respect of approval or disapproval of this. or that intending purchaser as a party who falls or • does not fall, respectively, within the exemptions which are implied loT the words " contractors or sub-contractors to the War. Department." We have already had communications which indicate that a certain lack of co-ordination has made itself evident. A crisp decision—" Yes " or " No "—is what is wanted. Better tell a man that he is not qualified, and so allow him to make a purchase elsewhere, than to upset him and his business calculations by a. period of uncerthinty. Furthermore, it mustbe made clear whether export orders may be executed by manufacturers who are affected by the terms of the partial release to which we referred last week.. We understand that it will, be impossible_ to allow the execution of export orders, except in very special cases.
We think, so far as the motor industry is concerned, that-all its members do not fully appreciate in correct perspective the position of the A.S.C. staffofficers who are responsible for the giving-out and control of orders. It appears to us that an elastic means, yet a; legitimate one, has been devised, in no small measUre in the interests of the motor industry, under Which makers can continue to work on their usual production, giving delivery in part to the military authorities, and in part to W.D. contractors or sub-contractors.
We again repeat our conviction, that the energies of any motor manufacturer will undoubtedly be absorbed by the Ministry of Munitions, on the manufacture of shell, fuses, etc., if " Q.M.G.3 " does not employ or vouch for those energies. A fair means, in a. general sense, has been adopted, having regard to the nation's case and cause. We gather that only four makers of three-tonners have received " full-stop " notice at six weeks.
The Engine as a Brake.
We have frequently reminded owners and drivers of petrol-propelled vehicles that the engine is useful as a.. brake. The degree of braking effect that can be obtained increases as a lower gear is engaged, . The lowest gear of any petrol-driven vehicle will usually hold that vehicle on a hill which is almost as steep as any hill which the vehicle will climb in the same gear. It is, of course, highly important that the gear which it is intended to employ as a brake shall be engaged at the top of the him as ariy. attempt to change down when on a declivity introduces a real element of danger.
We are prompted to remind our readers of the use of the engine as a brake by reason of a. sad occurrence .which was recently investigated by the Croydon coroner; we refer to a fatal accident on Titsey Hill, ..when, owing to the running-away of a petrol-driven vehicle down that steep gradient, two men were killed and others seriously injured.. It transpired, at the final sitting of the coroner's Inquiry, that the driver, on seeing the drop before him, remarked! " Look at this: hill; these brakes are no good. The only one 1 have now is the band brake." Whatever may have been the condition of the second brake at the time of the accident, as to which the evidence was slightly -conflicting, it is clear that the driver was under an erroneous impression in believing that he only had one brake left. Had it been his practice occasionally to utilize the engine as a brake, or had that possibility been impressed upon his Mind as a safe course in the event of its becoming expedient he must instinctively have remembered the other brake, the engine, and must have avoided the catastrophe.
We are not in favour of the regular use of the engine as a brake, to the exclusion of the obligation, 131-1
either upon the running, department or the driver himself, to see that the usual brakes are in good working order. It is a good plan, on a long and continuous down grade, to use the brakes in turn; the engine, with top gear engaged, turn and turn about with either the hand brake or the 'foot brake. That enables a_ driver to.kee,p two brakes on, while resting the third. We know' that, in .some engines, there is a• tendency to draw the oil away from the piston-rings into the combustion-space, .owing to the fact that the partial vacuum on the down-stroke is not satisfied by induction through the carburetter. For that reason, at least in certain cases, it is better to rely upon the ordinary friction 'brakes. Alternatively the driver may switch off, and keep his throttle midway open. This prevents the creation of any appreciable vacuum on the down-stroke, and adds to the braking effect by ensuring a higher compression on the, up-stroke.
The point which we desire to enforce is: that the use of the engine as a brake is a valuable reserve, provided the proper gear is engaged before way has been gathered by the vehicle down a steep hill.