A YEAR AGO.
16th September 1915
Page 2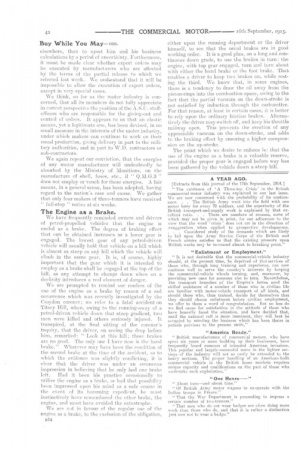 Page 2, 16th September 1915 —
A YEAR AGO.
Close
[Extracts from this journal of the 17th September, 1914.1
" The existence of A Three-ton Crisis' in the British commercia]-motor industry was explained in our last issue. We are now concerned with the probability of its continu ance. . The British Army went into the field with one motor lorry for every 70 soldiers, and the superiority of the British transport-and-supply work is explained by that excellent ratio. . . There are numbers of reasons, some of which may not be given in print, for our adherence to the view that the word ' crisis ' does not err in the, direction of exaggeration when applied to prospective developments.
. . Considered study of the demands which are likely to fall upon the Army Service Corps of the British and French armies satisfies us that the existing pressure upon British works may he increased almost to breaking point."
"Enlistment or Employment."
" It is not desirable that the commercial-vehicle industry should, at the present time, be deprived of thoz.services of those who, through long training and experience, can now continue well to serve the country's interests by keeping the commercial-vehicle wheels turning, and, moreover, by providing new ones for someone else to turn. Nevertheless, the transport branches tuf the Empire's forces need the skilled assistance of a number of those who in civilian life are familiar with motor-vehicle transport of all kinds, and should those who, thus trained, decide for themselves that they should choose enlistment before civilian employment, we offer to them a word of congratulation. But no less do we find cause for satisfaction in the attitude of those who have honestly faced the situation, and have decided that, until the national call is more imminent, -they will best be occupied by minding the business which has been theirs in periods previous to the present strife," .
"America Ready."
" British manufacturers of commercial motors, who have spent six years or more building up their businesses, have frequently heard rumours of intended American invasions. This popular and largely-successful move in the lighter Sections of the industry will not so easily he extended to the heavy sections. The proper handling of an American-built commercial vehicle in the British home markets requires unique capacity and qualifications on the part of those who undertake such exploitation."
"One Hears—"
" About turn—and about time."
Of British Army motor wagons to co-operate with the Indian troops in France." That the War Department is proceeding to impress a certain number of two-tonners."
" That men who do not wear badges are often doing more work than those who do, and that it is rather a distinction just now not to wear a badge."