Remarkable Tire Wear.
16th September 1915
Page 17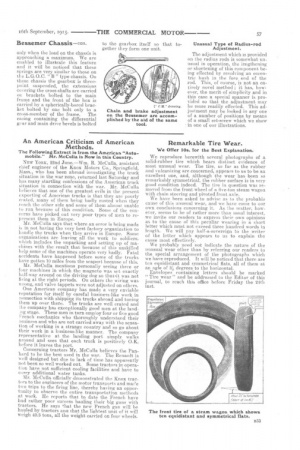 Page 17, 16th September 1915 —
Remarkable Tire Wear.
Close
We Offer 10s. for the Best Explanation.
We reproduce herewith several photographs of a solid-rubber tire which bears distinct evidence of most unusual wear. The tire, so far as the rubber and vulcanizing are concerned, appears to us to be an excellent one, -and, although the Wear has been so remarkably symmetrical, the rubber surface is in very good condition indeed. The tire in question was removed from the front wheel of a five-ton steam wagon with chain steering and pivoted front axle. We have been asked to advise as to the probable cause of this unusual wear, and we have come to our own conclusions concerning it. As the matter, however, seems to be of rather more than usual interest, we invite our readers to express their own opinions as to the cause of this peculiar wearing in a short letter which must not exceed three hundred words in length. We will pay half-a-sovereign to the writer of the letter which appears to us to explain the cause most effectively.
We probably need not indicate the nature of the unusual wear other than by referring our readers to the special arrangement of the photographs which we have reproduced. It will be noticed that there are ten equidistant and symmetrical flats, all of them at an agle of 3 degrees to the horizontal.
Envelopes containing letters should be marked "Tire wear" and be addressed to the Editor of this journal, to reach this office before Friday the 24th inst.