Register of Delivery Dates.
16th September 1915
Page 12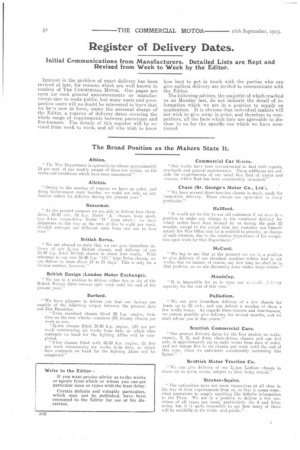 Page 12, 16th September 1915 —
Register of Delivery Dates.
Close
Initial Communications from Manufacturers. Detailed Lists are Kept and Revised from Week to Week by the Editor.
Interest in the problem of exact delivery has been revived of late, for reasons which are well known to readers of THE COMMERCIAL MOTOR. Our pages are open or such general announcements as manufacturers care to make public, but many users and prospective users will no doubt be interested to learn that we ha-e now in force, under the personal charge of the Editor, a register of delivery dates coveving the whole range of requirements between parcelcars and five-tonners: The details of this register will be revised from week to week, and all who wish to know
how best to get in touch with the parties who can give earliest delivery are invited to communicate with the Editor.
The following advices, the majority of which reached us on Monday last, do not indicate the detail of information which we are in a position to supply on application. It is obvious that individual makers will not wish to give away in print, and therefore to competitors, all the facts which they are agreeable to disclose to us for the specific use which we have mentioned.