One Hears
16th October 1942
Page 23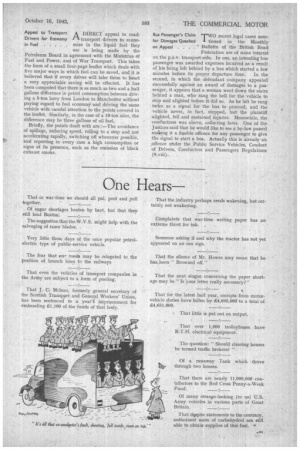 Page 23, 16th October 1942 —
One Hears
Close
Thai sin war-time we should all pal, pool and pull together.
Of sugar shortages beaten by beet, but that they still beat Beaton.
The suggestion that the W.V.S. might help with the salvaging of razor blades. .
Very little these days of the once popular petrolelectric type of public-service vehicle.
The fear that our roads may be relegated to the position of branch lines to the railways That even the vehicles of transport companies in the Army are subject to a form of pooling.
That 3. C. Mclean, formerly general secretary of the Scottish Transpprt and General Workers' Union, has been sentenced to a year's imprisonment for embezzling £1,100 of the funds of that body.
That the industry perhaps needs wakening, but certainly not weakening.
Complaints that war-time writing paper has an extreme thirst for ink. , Someone asking if and why the tractor has not yet appeared on an inn sign.
That the silence of Mr. Howes may mean that he has.been "Browned off."
That the next slogan concerning the paper shortage may be " Is...your letter really necessary?"
That for the latest half year, receipts from motorvehicle duties have fallen by £4,695,000 to a total of £4,651,000.
• That little is put out on output.
That over 1,600 trolleybuses have B.T.H. electrical equipment.
The question: "Should clearing houses be termed traffic brokers? "
Of a runaway Tank which drove through two houses.
That there are nearly 11,000,000 dintributors to the Red Cross Penny-a-Week Fund.
Of many strange-looking (to us) U.S. Army vehicles in various parts of Great• Britain.
That de,spite statements to the contrary, authorized users of carbohydrol are still able to obtain supplies of this fuel. •