Passing Comments
16th October 1942
Page 22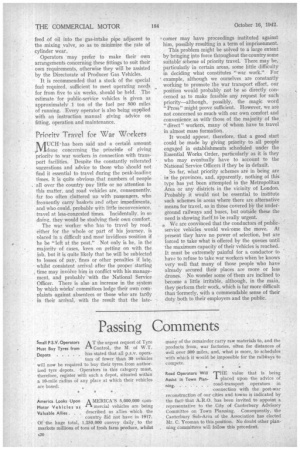 Page 23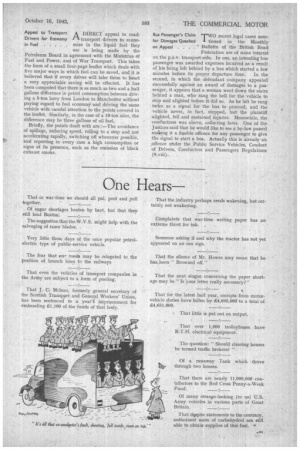 Page 22, 16th October 1942 —
Passing Comments
Close
Small P.S.V. Operators A T the urgent request of Tyre Must Buy Tyres from iTh Control, the M. • of W.T.
Depots has stated that all p.s.v. opera tors of fewer than 30 vehicles will now be required to buy their tyres from authorized tyre depots. Operators' in this category must, therefore, register with such a depot, situated within a 10-mile radius of any place at which their vehicles are based:
America Looks Upon A MERICA'S 5,000,000 cpmMotor Vehicles as 1-1-mercial vehicles are being Valuable Allies . . . described as allies which the
country aid not have in 1917. Of • the huge total, 1,250,000 convey daily, to the markets millions of tons of fresh farm produce, whilst *,20 many of the remainder carry raw materials to, and the products from, war factories, often for distances of well over 300 miles, and, what is more, to schedules with which it would be impossible for the railways to
compete.
Road Operators Will HE value that is being .
Assist in Town Plan I placed upon the advice of fling road-transport .operators in =connection with the post-war reconstruction of our cities and towns is indicated by the factthat A.R.O. has been invited to appoint a representative to the City of Canterbury Advisory Committee on Town Planning. Consequently, the Canterbury Sub-Area of the Association has elected Mr. C. Yeoman to this position. No doubt other planning committees will follow this precedent. Appeal to Transport A DIRECT appeal to roadDrivers for Economy 1-1 transport drivers to econo In Fuel mize in the liquid fuel they use is being made by the Petroleum Board in agreement with the Ministries of Fuel and Power, and of War Transport. This takes the form of a small four-page leaflet which deals with five major ways in which fuel can be saved, and it is believed that if every driver will take them to heart a very appreciable saving will be effected. It has been computed that there is as much as two and a half gallons difference in petrol consumption between driving a 5-ton lorry from London to Manchester without paying regard to fuel economy and driving the same vehicle with careful attention to the points covered in the leaflet. Similarly, in the case of a 10-ton oiler, the difference may be three gallons of oil fuel.
Briefly, the points dealt with are :—The avoidance of spillage, reducing speed, rolling to a stop and not accelerating rapidly, switching off whenever possible, and reporting in every case a high consumption or signs of its presence, such as the emission of black exhaust smoke.
Bus Passenger's Claim0 recent legal cases menfor Damages Quashed rtiiioned in the Monthly on Appeal , . Bulletin of the British Road
Federation are of some interest on the p.s.v. transport side. In one, an intending bus passenger was awarded expenses incurred as a result of his being left behind by a bus which started a few minutes before its proper departure time. In the second, in which the defendant company appealed successfully against an award of damages to a passenger, it appears that a woman went down the stairs behind a man, who rang the bell for the vehicle to stop and alighted before it did so. As he left he rang twice as a signal for the bus to proceed, and the vehicle never, in fact, stopped, but the plaintiff alighted,, fell and sustained injuries. Meanwhile, the conductress was above, collecting fares. One of the Justices said that he would like to see a by-law passed making it a finable offence for any 'passenger to give the signal to start a bus. Actually this is already an pffence utder the Public Service Vehicles, Conduct of Drivers, Conductors and Passengers Regulations (9.viii).