Traffic May Double on Britain's Roads
16th November 1951
Page 65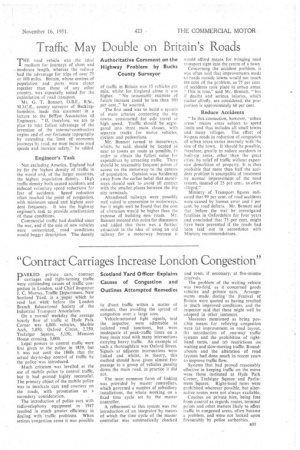 Page 65, 16th November 1951 —
Traffic May Double on Britain's Roads
Close
Keywords :
Road Safety
,
Traffic Law
,
Types Of Roads
,
Law Enforcement
,
Road Transport
,
Motorway
,
Speed Limit
,
Traffic Congestion
,
Highway
,
Traffic
,
Road Traffic Safety
,
Roads In The United Kingdom
,
Disaster / Accident
Authoritative Comment on the Highway Problem by Bucks County Surveyor
THE road vehicle was the ideal medium for journeys of short and -moderate length, whereas the railway
• had the advantage for trips of over 75 or 100 miles. Britain, whose centres of population and ports were closer together than those of any other country, was especially suited for the exploitation of road transport.
Mr. G. T. Bennett, (IRE., B.Sc., M.I.C.E., county surveyor of Buckinghamshire, made this statement in a lecture to the Belfast Association of Engineers. "If, therefore, we are to plan to take fullest advantage of the invention of the internal-combustion engine and of our fortunate topography by extending the limit of economic journeys by road, we must increase road speeds and increase safety," he added.
Engineer's Task
Not excluding America, England had by far the highest density of traffic in the world and, of the larger countries, the highest population density. High traffic density both caused accidents and induced voluntary speed reductions for fear of accidents. Speed reduction often reached the point of congestion, with minimum speed and highest accident frequency. . It was the highway engineer's task to provide amelioration of these conditions.
Commercial traffic had doubled since the war, and if the sale of new vehicles were unrestricted, road conditions would beggar description. The density of traffic in Britain was 15 vehicles pr mile, whilst for England alone it was higher. " No reasonable estimate of future increase could be less than 100 per cent.," he asserted.
The first need was to build a system of main arteries connecting the big towns, constructed for safe travel at high speed. Traffic should be segregated into three main classes, with separate tracks for motor vehicles, cYclists and pedestrians.
Mr. Bennett turned to motorways, which, he said, should be located us near to .towns en route as possible, in order to obtain the fullest value for expenditure by attracting traffic. There should be reasonably frequent points LI access on the motorway to the centres of population. Opinion was hardening away from the earlier belief that motorways should seek to avoid all contact with the smaller places between the big city terminals.
.Abandoned railways were possibly well suited to conversion to motorways, but it might well be found that the cost of alteration would be higher than the expense of building new roads. Mr. Bennett mooted this point for discussion and added that there was a further attraction in the idea of using an old railway for a motorway because it would afford means for bringing road transport right into the centre of a town.
Concerning the accident problem, it was often said that improvements math to roads outside towns would not touch the core of the problem, as 75 per cent of accidents took place in urban areas, This is true," said Mr.. Bennett, " but if deaths and serious injuries, which matter chiefly, are considered, the proportion is approximately 60 per cent.
Reduce Accidents
"In this connection, however, urban areas' means areas subject to speed limits and thus includes all small towns
and many villages. The, effect of by-pass roads in reduction of congestion of urban areas varies inversely with the size of the town. It should be possible, therefore, greatly to reduce accidents in built-up areas, other than the great cities, by relief of traffic without expensive demolition of property. It is thus probable that more than half the accident problem is susceptible of treatment by normal improvement of the road system, instead of 25 per.cent., as often alleged."
Ministry of Transport figures indicated that 99 per cent, of road accidents were caused by human error and 1 per cent. by road defects. Mr. Bennett said that before the war he investigated fatalities in Oxfordshire for four years and concluded that 75 per cent, might have been prevented if the roads had been laid out in accordance with Ministry recommendations.