Easier, Quicker Weighbridge Testing
16th November 1951
Page 61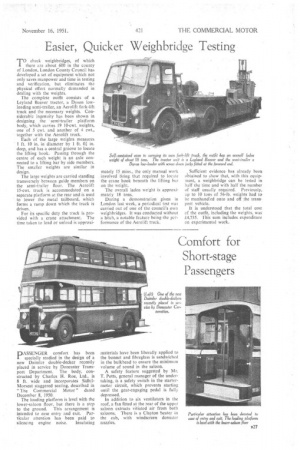 Page 61, 16th November 1951 —
Easier, Quicker Weighbridge Testing
Close
To check weighbridges, of which there are about 600 in the county of London, London County Council has developed a set of equipment which not only saves manpower and time in testing and verification, but eliminates the physical effort normally demanded in dealing with the weights.
The complete outfit consists of a Leyland Beaver tractor, a Dyson lowloading semi-trailer, an Aerolift fork-lift truck and the necessary weights. Considerable ingenuity has been shown in designing the semi-trailer platform body, which carries 19 10-cwt, weights, one of 5 cwt. and another of 4 cwt., together with the Aerolift truck, Each of the large weights measures ft. 10 in. in diameter by I ft. 01 in. deep, and has a central groove to locate the lifting hook. Passing through the centre of each weight is an axle connected to a lifting bar by side members. The smaller weights are similar in design.
• The large weights are carried standing transversely between guide members on the semi-trailer floor. The Aerolift 15-cwt. truck is accommodated on a separate platform at the rear and is used to lower the metal tailboard, which forms a ramp down which the truck is driven.
For its specific duty the truck is provided with a crane attachment. The time taken to load or unload is approxi mately 15 mins., the only manual work involved being that required to locate the crane hook beneath the lifting bar on the weight,
The overall laden weight is approximately 18 tons.
During a demonstration given in London last week, a periodical test was carried out of one of the council's own weighbridges. It was conducted without a hitch, a notable feature being the performance of the Aerolift truck. Sufficient evidence has already been obtained to show that, with this equipment, a weighbridge can be tested in half the time and with half the number of staff usually required. Previously, up to 10 tons of 56-lb. weights had to be manhandled onto and off the transport vehicle.
It is understood that the total cost of the outfit, including the weights, was' £4,735. This sum includes expenditure on experimental work.