Drivers to Pa); for Tuition ?
16th November 1951
Page 45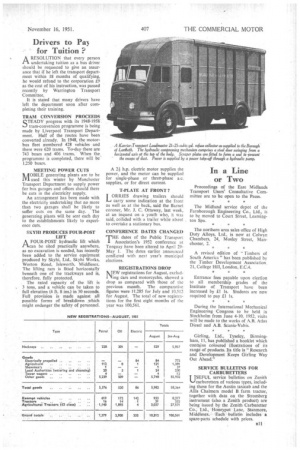 Page 45, 16th November 1951 —
Drivers to Pa); for Tuition ?
Close
• A RESOLUTION that every person .1—IL undertaking tuition as a bus driver should be requested to give an assurance that if he left the transport department within 18 months of qualifying, he would refund to the corporation £9 as the cost of his instruction, was passed recently by Warrington Transport Committee.
It is stated that many drivers have left the department soon after completing their training.
TRAM CONVERSION PROCEEDS QTEADY progress with its 1948-1958 kJ tram-conversion programme is being made by Liverpool Transport Department. Half of the routes have been converted already. In 1948, the motorbus fleet numbered 428 vehicles • and there were 620 trams, To-daythere are 743 buses and 406 trams. When the programme is completed, there will be' 1,250 buses.
MEETING POWER CUTS
It 40131LE generating plants are to he al used this winter by Manchester Transport Department to supply power for bus garages and offices should there
be .cuts in the electricity supply. .
An arrangement has been made with the electricity undertaking that no more than two garages shall be likely to suffer cuts on the same day. , The generating plants will, be sent each day to the establishments likely to experience cuts..
SKYHI PRODUCES FOUR-POST LIFT
A FOUR-POST hydraulic lift which rican be sited practically anywhere, as no excavation is needed, has recently been added. to the service equipment produced by Skyhi, Ltd., Skyhi Works, Worton Road, Isleworth, Middlesex. The lifting ram is fitted horizontally beneath one of the trackways and is, therefore, fully protected.
The rated capacity of the lift is 3 tons, and a vehicle can be taken to full elevation (4 ft. 8 ins.) in 30 seconds, Full provision is made against all possible forms of breakdown ,which might endanger the safety of personnel. A 21 h.p. electric motor supplies the power, and the motor can be supplied for single-phase or three-phase a.c. supplies, or for direct current.
T-PLATE AT FRONT ?
LORRIES drawing trailers should carry some indication at the front as well as at the back,. said the Barnet coroner, Mr. J. C. Ottaway, last week, at an inquest on a youth who, it was said, collided with a trailer while about to overtake a stationary bus.
CONFERENCE. DATES CHANGED
TH"ates of the Public Transport Association's 1952 conference at Torquay have been altered to April 29May I. The dates earlier announced conflicted with next year's municipal elections.
REGISTRATIONS DROP
NEW registrations for August, exclud'lingears and motorcycles, showed a drop as compared with those of the previous month. The comparative figures were 11,285 for July and 10,512 for August. The total of new registrations for the first eight months of the year was 100,561.