London 2012 lessons should be adopted By Andrew Stone THE
16th May 2013
Page 7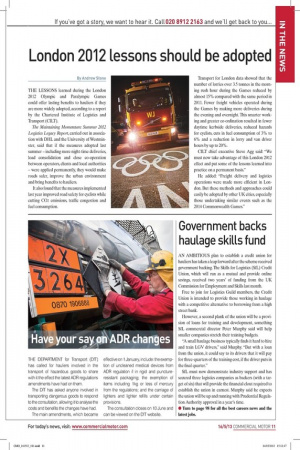 Page 7, 16th May 2013 —
London 2012 lessons should be adopted By Andrew Stone THE
Close
LESSONS learned during the London 2012 Olympic and Paralympic Games could offer lasting benefits to hauliers if they are more widely adopted, according to a report by the Chartered Institute of Logistics and Transport (CILT).
The Maintaining Momentum: Summer 2012 Logistics Legacy Report, carried out in association with DHL and the University of Westminster, said that if the measures adopted last summer — including more night-time deliveries, load consolidation and close co-operation between operators, clients and local authorities — were applied permanently, they would make roads safer, improve the urban environment and bring benefits to hauliers.
It also found that the measures implemented last year improved road safety for cyclists while cutting CO2 emissions, traffic congestion and fuel consumption. Transport for London data showed that the number of lorries over 3.5 tonnes in the morning rush hour during the Games reduced by almost 15% compared with the same period in 2011. Fewer freight vehicles operated during the Games by making more deliveries during the evening and overnight. This smarter working and greater co-ordination resulted in fewer daytime kerbside deliveries, reduced hazards for cyclists, cuts in fuel consumption of 3% to 6% and a reduction in lorry and van driver hours by up to 20%.
CILT chief executive Steve Agg said: "We must now take advantage of this London 2012 effect and put some of the lessons learned into practice on a permanent basis."
He added: "Freight delivery and logistics operations were made more efficient in London. But these methods and approaches could easily be adopted by other UK cities, especially those undertaking similar events such as the 2014 Commonwealth Games."