Improved efficiency Lowers UK road miles By Ashleigh Wight THE
16th May 2013
Page 4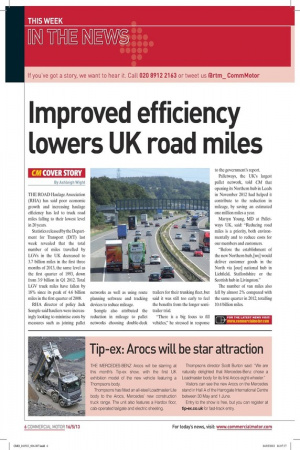 Page 4, 16th May 2013 —
Improved efficiency Lowers UK road miles By Ashleigh Wight THE
Close
ROAD Haulage Association (RHA) has said poor economic growth and increasing haulage efficiency has led to truck road miles falling to their lowest level in 20 years.
Statistics released by the Department for Transport (DfT) last week revealed that the total number of miles travelled by LGVs in the UK decreased to 3.7 billion miles in the first three months of 2013, the same level as the first quarter of 1993, down from 3.9 billion in 01 2012. Total LGV truck miles have fallen by 18% since its peak of 4.6 billion miles in the first quarter of 2008.
RHA director of policy Jack Semple said hauliers were increasingly looking to minimise costs by measures such as joining pallet networks as well as using route planning software and tracking devices to reduce mileage.
Semple also attributed the reduction in mileage to pallet networks choosing double-deck trailers for their trunking fleet, but said it was still too early to feel the benefits from the longer semitrailer trial.
"There is a big focus to fill vehicles," he stressed in response to the government's report.
Palletways, the UK's largest pallet network, told CM that opening its Northern hub in Leeds in November 2012 had helped it contribute to the reduction in mileage, by saving an estimated one million miles a year.
Martyn Young, MD at Palletways UK, said: "Reducing road miles is a priority, both environmentally and to reduce costs for our members and customers.
"Before the establishment of the new Northern hub, [we] would deliver customer goods in the North via [our] national hub in Lichfield, Staffordshire or the Scottish hub in Livingston."
The number of van miles also fell by almost 2% compared with the same quarter in 2012, totalling 10.4 billion miles.