Taking tbe train Moving railway rolling stock is big business
16th May 2013
Page 25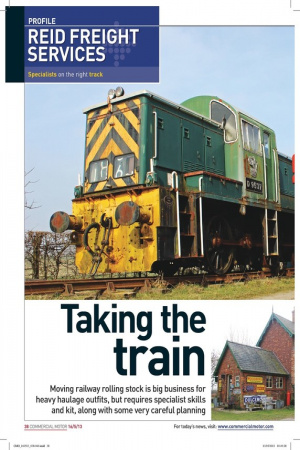 Page 26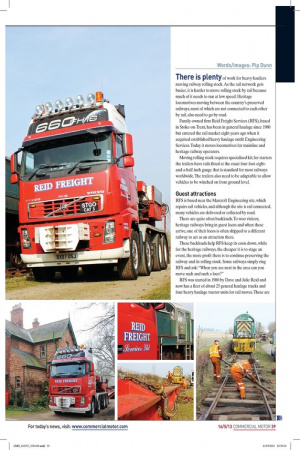 Page 27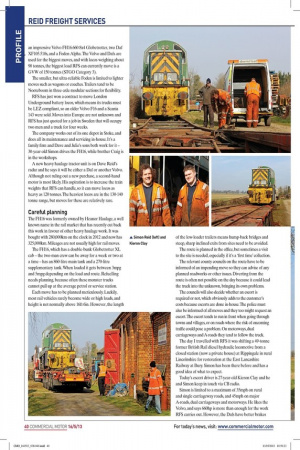 Page 28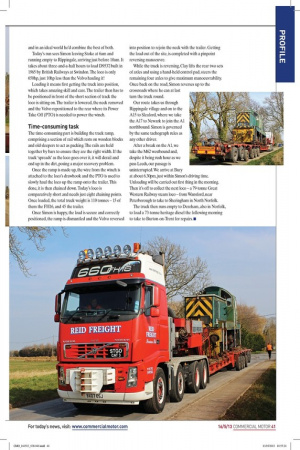 Page 25, 16th May 2013 —
Taking tbe train Moving railway rolling stock is big business
Close
for heavy haulage outfits, but requires specialist skills and kit, along with some very careful planning Words/images: Pip Dunn There is plenty of work for heavy hauliers moving railway rolling stock. As the rail network gets busier, it is harder to move rolling stock by rail because much of it needs to run at low speed. Heritage locomotives moving between the country's preserved railways, most of which are not connected to each other by rail, also need to go by road.
Family-owned firm Reid Freight Services (RFS), based in Stoke-on-Trent, has been in general haulage since 1980 but entered the rail market eight years ago when it acquired established heavy haulage outfit Engineering Services. Today it moves locomotives for mainline and heritage railway operators.
Moving rolling stock requires specialised kit; for starters the trailers have rails fitted at the exact four foot eightand-a-half-inch gauge that is standard for most railways worldwide. The trailers also need to be adaptable to allow vehicles to be winched on from ground level.
Guest attractions RFS is based near the Marcroft Engineering site, which repairs rail vehicles, and although the site is rail connected, many vehicles are delivered or collected by road.
There are quite often backloads. To woo visitors, heritage railways bring in guest locos and when these arrive, one of their locos is often shipped to a different railway to act as an attraction there.
These backloads help RFS keep its costs down, while for the heritage railways, the cheaper it is to stage an event, the more profit there is to continue preserving the railway and its rolling stock. Some railways simply ring RFS and ask: "When you are next in the area can you move such and such a loco?"
RFS was started in 1980 by Dave and Julie Reid and now has a fleet of about 25 general haulage trucks and four heavy haulage tractor units for rail moves. These are an impressive Volvo FH16.660 8x4 Globetrotter, two Daf XF105.510s, and a Foden Alpha. The Volvo and Dafs are used for the biggest moves, and with locos weighing about 90 tonnes, the biggest load RFS can currently move is a GVVV of 150 tonnes (STGO Category 3).
The smaller, but ultra-reliable Foden is limited to lighter moves such as wagons or coaches. Trailers tend to be Nooteboom in three-axle modular sections for flexibility.
RFS has just won a contract to move London Underground battery locos, which means its trucks must be LEZ compliant, so an older Volvo F16 and a Scania 143 were sold. Moves into Europe are not unknown and RFS has just quoted for a job in Sweden that will occupy two men and a truck for four weeks.
The company works out of its one depot in Stoke, and does all its maintenance and servicing in-house. It's a family firm and Dave and Julie's sons both work for it — 30-year-old Simon drives the FH16, while brother Craig is in the workshops.
A new heavy haulage tractor unit is on Dave Reid's radar and he says it will be either a Daf or another Volvo. Although not ruling out a new purchase, a second-hand motor is most likely. His aspiration is to increase the train weights that RFS can handle, so it can move locos as heavy as 120 tonnes. The heaviest locos are in the 130-140 tonne range, but moves for these are relatively rare.
Careful planning The FH16 was formerly owned by Heanor Haulage, a well known name in the rail market that has recently cut back this work in favour of other heavy haulage work. It was bought with 280,000km on the clock in 2012 and now has 325,000km. Mileages are not usually high for rail moves.
The FH16, which has a double-bunk Globetrotter XL cab — the two-man crew can be away for a week or two at a time — has an 860-litre main tank and a 270-litre supplementary tank. When loaded it gets between 3mpg and 5mpg depending on the load and route. Refuelling needs planning, because often these monster trucks cannot pull up at the average petrol or service station.
Each move has to be planned meticulously. Luckily, most rail vehicles rarely become wide or high loads, and height is not normally above 16ft 6in. However, the length of the low-loader trailers means hump-back bridges and steep, sharp inclined exits from sites need to be avoided.
The route is planned in the office, but sometimes a visit to the site is needed, especially if it's a 'first time' collection.
The relevant county councils on the route have to be informed of an impending move so they can advise of any planned roadworks or other issues. Diverting from the route is often not possible on the day because it could lead the truck into the unknown, bringing its own problems.
The councils will also decide whether an escort is required or not, which obviously adds to the customer's costs because escorts are done in-house. The police must also be informed of all moves and they too might request an escort. The escort tends to run in front when going through towns and villages, or on roads where the risk of oncoming traffic could pose a problem. On motorways, dual carriageways and A-roads they tend to follow the truck.
The day I travelled with RFS it was shifting a 49-tonne former British Rail diesel hydraulic locomotive from a closed station (now a private house) at Rippingale in rural Lincolnshire for restoration at the East Lancashire Railway at Bury. Simon has been there before and has a good idea of what to expect.
Today's escort driver is 27-year-old Kieron Clay and he and Simon keep in touch via CB radio.
Simon is limited to a maximum of 35mph on rural and single carriageway roads, and 45mph on major A-roads, dual carriageways and motorways. He likes the Volvo, and says 660hp is more than enough for the work RFS carries out. However, the Dafs have better brakes and in an ideal world he'd combine the best of both.
Today's run sees Simon leaving Stoke at 6am and running empty to Rippingale, arriving just before 10am. It takes about three-and-a-half hours to load D9537, built in 1965 by British Railways at Swindon. The loco is only 650hp, just 10hp less than the Volvo hauling it!
Loading it means first getting the truck into position, which takes amazing skill and care. The trailer then has to be positioned in front of the short section of track the loco is sitting on. The trailer is lowered, the neck removed and the Volvo repositioned to the rear where its Power Take Off (PTO) is needed to power the winch.
Time-consuming task The time-consuming part is building the track ramp, comprising a section of rail which rests on wooden blocks and old sleepers to act as packing. The rails are held together by bars to ensure they are the right width. If the track 'spreads' as the loco goes over it, it will derail and end up in the dirt, posing a major recovery problem.
Once the ramp is made up, the wire from the winch is attached to the loco's drawhook and the PTO is used to slowly haul the loco up the ramp onto the trailer. This done, it is then chained down. Today's loco is comparatively short and needs just eight chaining points. Once loaded, the total truck weight is 110 tonnes — 15 of them the FH16, and 45 the trailer.
Once Simon is happy, the load is secure and correctly positioned, the ramp is dismantled and the Volvo reversed into position to rejoin the neck with the trailer. Getting the load out of the site, is completed with a pinpoint reversing manoeuvre.
While the truck is reversing, Clay lifts the rear two sets of axles and using a hand-held control pad, steers the remaining four axles to give maximum manoeuvrability. Once back on the road, Simon reverses up to the crossroads where he can at last turn the truck round.
Our route takes us through Rippingale village and on to the A15 to Sleaford, where we take the A17 to Newark to join the Al northbound. Simon is governed by the same tachograph rules as any other driver.
After a break on the Al, we take the M62 westbound and, despite it being rush hour as we pass Leeds, our passage is uninterrupted. We arrive at Bury at about 6.30pm, just within Simon's driving time. Unloading will be carried out first thing in the morning. Then it's off to collect the next loco — a 79-tonne Great Western Railway steam loco — from Wansford, near Peterborough to take to Sheringham in North Norfolk.
The truck then runs empty to Dereham, also in Norfolk, to load a 73-tonne heritage diesel the following morning to take to Burton-on-Trent for repairs. •