No need to worry about fuel consumption anymM By David
16th May 2013
Page 10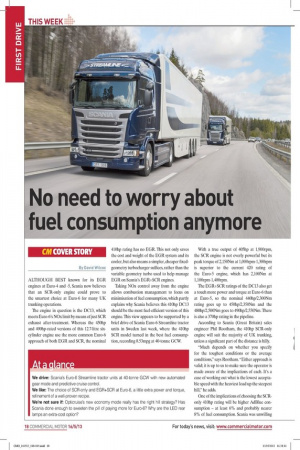 Page 11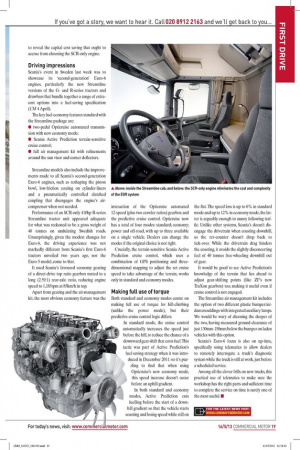 Page 10, 16th May 2013 —
No need to worry about fuel consumption anymM By David
Close
Wilcox ALTHOUGH BEST known for its EGR engines at Euro-4 and -5, Scania now believes that an SCR-only engine could prove to the smartest choice at Euro-6 for many UK trunking operations.
The engine in question is the DC13, which meets Euro-6's NOx limit by means of just SCR exhaust after-treatment. Whereas the 450hp and 490hp-rated versions of this 12.7-litre sixcylinder engine use the more common Euro-6 approach of both EGR and SCR, the nominal 410hp rating has no EGR. This not only saves the cost and weight of the EGR system and its cooler, but also means a simpler, cheaper fixedgeometry turbocharger suffices, rather than the variable geometry turbo used to help manage EGR on Scania's EGR+SCR engines.
Taking NOx control away from the engine allows combustion management to focus on minimisation of fuel consumption, which partly explains why Scania believes this 410hp DC13 should be the most fuel-efficient version of this engine. This view appears to be supported by a brief drive of Scania Euro-6 Streamline tractor units in Sweden last week, where the 410hp SCR model turned in the best fuel consumption, recording 8.53mpg at 40-tonne GCVV. With a true output of 405hp at 1,900rpm, the SCR engine is not overly powerful but its peak torque of 2,150Nm at 1,000rpm-1,300rpm is superior to the current 420 rating of the Euro-5 engine, which has 2,100Nm at 1,10Orpm-1,400rpm.
The EGR+SCR ratings of the DC13 also get a touch more power and torque at Euro-6 than at Euro-5, so the nominal 440hp/2,300Nm rating goes up to 450hp/2,350Nm and the 480hp/2,500Nm goes to 490hp/2,550Nm. There is also a 370hp rating in the pipeline.
According to Scania (Great Britain) sales engineer Phil Rootham, the 410hp SCR-only engine will suit the majority of UK trunking, unless a significant part of the distance is hilly.
"Much depends on whether you specify for the toughest conditions or the average conditions," says Rootham. "Either approach is valid; it is up to us to make sure the operator is made aware of the implications of each. It's a case of working out what is the lowest acceptable speed with the heaviest load up the steepest hill," he adds.
One of the implications of choosing the SCRonly 410hp rating will be higher AdBlue consumption — at least 6% and probably nearer 8% of fuel consumption. Scania was unwilling to reveal the capital cost saving that ought to accrue from choosing the SCR-only engine.
Driving impressions Scania's event in Sweden last week was to showcase its 'second-generation' Euro-6 engines, particularly the new Streamline versions of the Gand R-series tractors and drawbars that bundle together a range of extracost options into a fuel-saving specification (CM 4 April).
The key fuel-economy features standard with the Streamline package are: • two-pedal Opticruise automated transmission with new economy mode; • Scania Active Prediction terrain-sensitive cruise control; • full air management kit with refinements around the sun visor and comer deflectors.
Streamline models also include the improvements made to all Scania's second-generation Euro-6 engines, such as reshaping the piston bowl, low-friction coating on cylinder-liners and a pneumatically controlled clutched coupling that disengages the engine's aircompressor when not needed.
Performance of an SCR-only 410hp R-series Streamline tractor unit appeared adequate for what was reckoned to be a gross weight of 40 tonnes on undulating Swedish roads. Unsurprisingly, given the modest changes for Euro-6, the driving experience was not markedly different from Scania's first Euro-6 tractors unveiled two years ago, nor the Euro-5 model, come to that.
It used Scania's favoured economy gearing of a direct-drive top ratio gearbox mated to a long (2.59:1) rear-axle ratio, reducing engine speed to 1,185rpm at 85km/h in top.
Apart from gearing and the air-management kit, the most obvious economy feature was the interaction of the Opticruise automated 12-speed (plus two crawler ratios) gearbox and the predictive cruise control. Opticruise now has a total of four modes: standard; economy; power and off-road, with up to three available on a single vehicle. Dealers can change the modes if the original choice is not right.
Crucially, the terrain-sensitive Scania Active Prediction cruise control, which uses a combination of GPS positioning and threedimensional mapping to adjust the set cruise speed to take advantage of the terrain, works only in standard and economy modes.
Making full use of torque Both standard and economy modes centre on making full use of torque for hill-climbing (unlike the power mode), but their predictive cruise control logic differs.
In standard mode, the cruise control automatically increases the speed just before the hill, to reduce the chance of a downward gear-shift that costs fuel. This tactic was part of Active Prediction's fuel-saving strategy when it was introduced in December 2011: so it's puzzling to find that when using Opticruise's new economy mode, this speed increase doesn't occur before an uphill gradient.
In both standard and economy modes, Active Prediction cuts fuelling before the start of a downhill gradient so that the vehicle starts coasting and losing speed while still on the flat. The speed loss is up to 6% in standard mode and up to 12% in economy mode, the latter is arguably enough to annoy following traffic. Unlike other systems, Scania's doesn't disengage the drivetrain when coasting downhill, so the rev-counter doesn't drop back to tick-over. While the drivetrain drag hinders the coasting, it avoids the slightly disconcerting feel of 40 tonnes free-wheeling downhill out of gear.
It would be good to see Active Prediction's knowledge of the terrain that lies ahead to adjust gear-shifting points (like ZF's new TraXon gearbox) too, making it useful even if cruise control is not engaged.
The Streamline air-management kit includes the option of two different plastic bumper/airdam mouldings with integrated auxiliary lamps. We would be wary of choosing the deeper of the two, having measured ground clearance of just 130mm-150mm below the bumper on laden vehicles with this option.
Scania's Euro-6 focus is also on up-time, specifically using telematics to allow dealers to remotely interrogate a truck's diagnostic system while the truck is still at work, just before a scheduled service.
Among all the clever frills on new trucks, this practical use of telematics to make sure the workshop has the right parts and sufficient time to complete the service on time is surely one of the most useful. •